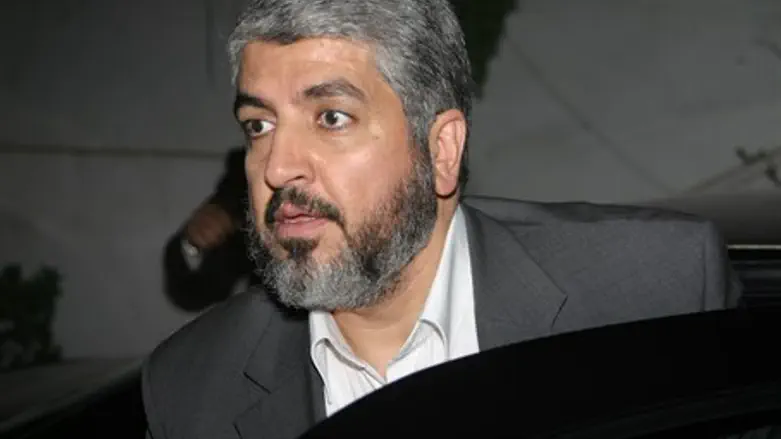 Khaled Mashaal
Reuters
Hamas leader Khaled Mashaal is calling for an escalation in the "intifada" until the "forces of the occupation withdraw and go away".
The comments by the Hamas leader came in a recorded speech posted to the Hamas website on the occasion of the 28th anniversary of the movement.
In the speech, Mashaal stated the importance of the participation of all Palestinian Arabs in the "intifada".
He made it clear that Hamas is working to strengthen its relationship with the international community and humanitarian organizations in order to recruit supporters and bring about a solution to the "Palestinian problem" and change the policy in different countries. That policy change, he claimed, will be reached when these countries feel that Israel is a political, financial and moral burden which has no future, while also understanding that the Palestinians are determined to achieve their rights.
The goals of the Palestinian national enterprise, according to Mashaal, are: liberating the homeland, returning to Jerusalem, saving the Al-Aqsa Mosque and the holy places, achieving the right of return and lifting the siege on Gaza.
Just last week, Mashaal exalted Palestinian Arab terror attacks in an address at an Al-Jazeera event in Kuala Lumpur, calling the terrorists "the noblest of people."
"The Palestinians have reached the realization that negotiations (with Israel) are useless," he said. "This so-called peace process is futile; there is no peace."
"Our rights will not be restored by the UN Security Council, but by means of recruitment," he insisted. "2,000 verbal 'rockets' do not compare to a single rocket made of iron."
Hamas has continued to incite to terrorism against Israelis using both its educational institutions and official media outlets.
Deputy Hamas leader Ismail Haniyehrecently released a call for all Palestinian Arabs to continue this "intifada", saying in a speech that was recorded and played at a conference in Istanbul that "the knife of the intifada" defends the name of the Palestinian people and the Arab Islamic nation at its holy places, among them the Al-Aqsa Mosque.