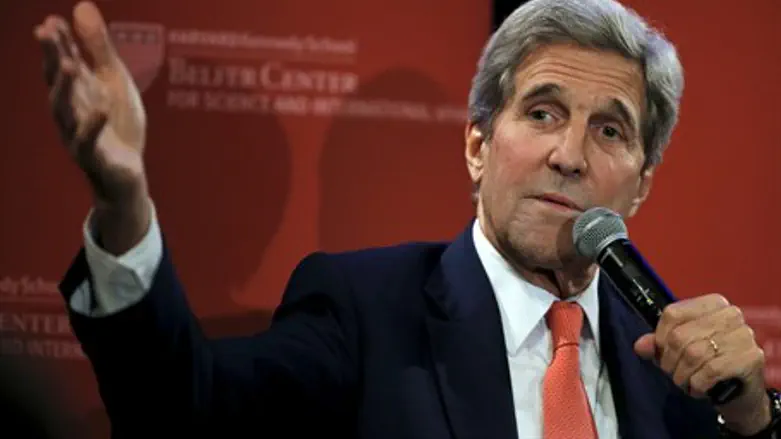 Secretary of State John Kerry
Reuters
The top American diplomat, Secretary of State John Kerry, on Tuesday welcomed the UN nuclear watchdog's decision to close its probe into whether Iran had developed nuclear weapons in the past.
In a written statement quoted by Reuters, Kerry said the decision by the International Atomic Energy Agency's (IAEA) board would allow it to focus on the implementation of the July 14 deal between Iran and the West.
"Closing the (Possible Military Dimensions) agenda item will in no way preclude the IAEA from investigating if there is reason to believe Iran is pursuing any covert nuclear activities in the future, as it had in the past," Kerry said, according to Reuters, adding the Joint Comprehensive Plan of Action (JCPOA) improved the agency's ability to monitor Iran.
"Today's resolution makes clear that the IAEA's Board of Governors will be watching closely to verify that Iran fully implements its commitments under the JCPOA," he added . "We will remain intensely focused going forward on the full implementation of the JCPOA in order to ensure the exclusively peaceful nature of Iran's nuclear program."
Earlier on Tuesday, the IAEA said it had officially closed its investigation into allegations that Iran has been secretly developing nuclear weapons, though the agency's chief Yukiya Amano admitted that the investigation is still incomplete.
In comments to the IAEA's 35-nation board, Amano said his agency was unable to "reconstruct all the details of activities conducted by Iran in the past," but that he remained convinced Iran had engaged in "a range of activities relevant" to constructing a nuclear weapons program.
The IAEA resolution, approved by its board of governors, comes despite a December 2 report that concluded Iran had conducted "a range of activities relevant to the development" of a nuclear bomb until 2009.
Israel later responded to the IAEA decision and warned that "serious doubts" still surround Iran's nuclear program
"The IAEA report clearly indicates once again that Iran has conducted a coordinated effort to develop a nuclear explosive device, including activities taking place after 2003," the Israeli foreign ministry said.
"For over a decade, Iran has been non-cooperative and deceptive," a ministry statement read. "Serious doubts and outstanding issues regarding Iran's program still remain."