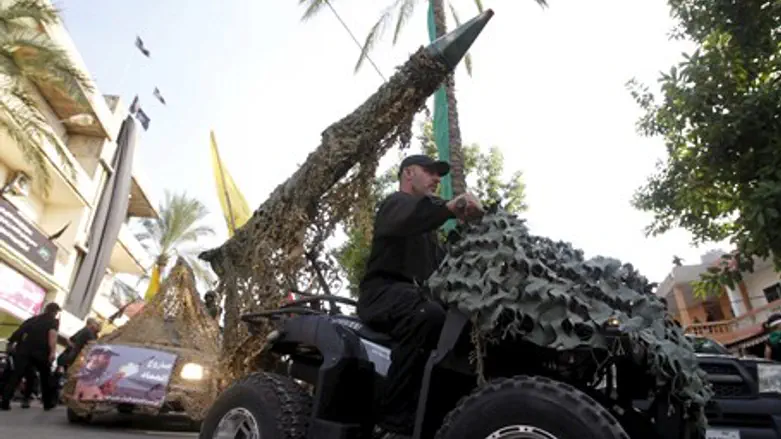 Hezbollah terrorist with missile
Reuters
Hezbollah has lost more than one-third of its fighting forces in Syria, Israeli experts estimated Tuesday, including some 1,300-1,500 soldiers since the Syrian Civil War began nearly five years ago. 5,000 Hezbollah terrorists have been injured in the fighting as well, analysts say. 
The group released statistics regarding its progress in the battle zone recently and has not tried to hide its losses, Walla! News reports - a stark contrast to the Shia Islamist terror group's operating principles when the war began.
Photos of 14 Hezbollah terrorists killed fighting Islamic State (ISIS) near the Syria-Lebanon border were published in full in Lebanese media outlets over the weekend, for example, with images from their funerals showing bodies draped in the yellow and green Hezbollah flag. The same reports claim that Hezbollah caused dozens of casualties to ISIS. 
Hezbollah's campaign is spread along the Syrian-Lebanese border and the northwestern Syrian region near Latakia, a stronghold of Syrian President Bashar Assad's Allawite sect.
For the past three months, Hezbollah has been fighting Sunni Muslim rebels alongside members of the Iranian Revolutionary Guards and Assad's forces, with help from the Russian Air Force.
However, the IRG has also suffered major losses, according to Iranian media reports, with over 80 soldiers killed and several taken prisoner by Syrian rebel groups.