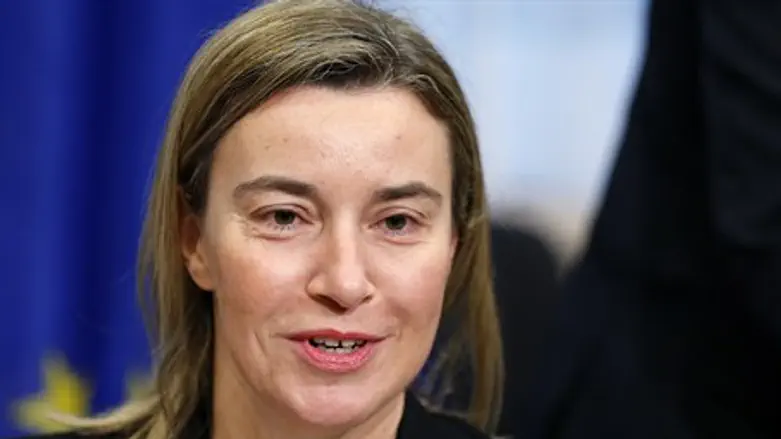 EU foreign policy chief Federica Mogherini
Reuters
EU foreign policy chief Federica Mogherini led a meeting with EU foreign ministers on Monday, in which the officials reiterated they will not drop their plan to label Jewish products from Judea, Samaria, eastern Jerusalem and the Golan Heights.
The EU is "united on these technical guidelines on the indication of origin, which is in no way a boycott," Mogherini said after the meeting according to Associated Press.
That determination to label comes despite Prime Minister Binyamin Netanyahu's response of cutting diplomatic ties with the EU, and likewise the Foreign Ministry decided to "mark" European countries that were particularly hostile in pushing for the labeling.
Bar Ilan University Law Professor Avi Bell told Arutz Sheva last week about how he took part in a special symposium held at the European Parliament, in which he explained that the labeling is illegal according to international law.
"The move discriminates against the products of only one country, namely Israel, and is therefore considered illegal by the rules set down in the World Trade Organization treaties," said Bell, who suggested Israel attack the move at the WTO.
The discriminatory nature of the move has been widely noted on, particularly as there are roughly 200 territorial disputes around the world, such as in Western Sahara and Cyprus, and yet only Israel was singled out by the Europeans.
Many experts have warned that the labeling is only the first step leading to a total boycott of Israel, particular given the active role of BDS boycott groups in getting the labeling passed.
Talk of Israel's status in Judea and Samaria brings to mind the 2012 Levy Report, which proved that Israel's presence there is legal according to international law. Despite being commissioned by Prime Minister Binyamin Netanyahu, two consecutive governments led by him have yet to adopt the findings of the report.