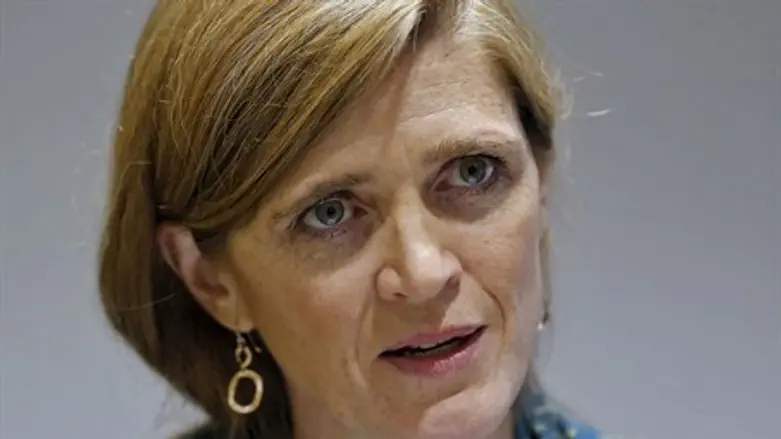 Samantha Power
Reuters
The United States ambassador to the UN, Samantha Power, spoke at the Haaretz Conference in New York on Sunday, where she criticized Israel for "continued settlement growth" and urged both Israelis and Palestinians to renew peace efforts.
"We are under no illusion that achieving peace is easy - it takes tough choices by both sides," she said before criticizing both sides and adding that "we have not seen sufficient commitment from either side to create conditions for peace." 
Specifically with regards to Israel, Power claimed that "continued settlement growth raises questions about Israel's long-term objectives," according to remarks quoted by the newspaper.
She said that the United States will always stay Israel's partner, and noted U.S. efforts against attempts to delegitimize Israel at the UN, a place where "Israel hasn't always been treated fairly."
Power said the bias against Israel at the UN persists, and blasted what she called the "absurdity" of Israel being the only country with a standing item on the agenda of the UN Human Rights Council - "not Syria, which gasses its citizens." 
"Delegitimizing Israel delegitimizes the UN," Power said, according to Haaretz, adding that the U.S. worked to reduce anti-Israel decisions at the council by half.
Power made clear that the U.S. "will always" continue working for a two-state solution, opposing any efforts at the UN that undermine such a solution. In this regard, Power added that she is "still awed by the brave and unpopular decisions often made by Yitzhak Rabin."
The remarks are hardly surprising, as the United States' official position for quite some time has been that Israel and the Palestinian Authority (PA) work towards a "two-state solution" to end the conflict between them, though officials in the Obama administration recently admitted that reaching this solution before Obama's term expires is unlikely.
The Americans have also consistently said they viewed Israel's presence in Judea and Samaria as being harmful to peace.
Last week at the Saban Forum, Secretary of State John Kerry lashed out at Israel, saying that current trends in the Israeli-Palestinian conflict are leading to a "one-state solution" and warning that if that were to happen, Israel would risk no longer being a Jewish and democratic state.
Prime Minister Binyamin Netanyahu later addressed the Saban Forum in a video call and responded to Kerry's accusations. He noted in his remarks that in order to make peace, one needs a partner, and that PA chairman Mahmoud Abbas has not been one.
Indeed, Abbas has continuously imposed new preconditions on talks, even after Netanyahu declared he was willing to meet with him.
Furthermore, Abbas himself recently admitted to Israeli television that he rejected "out of hand" an offer from former Prime Minister Ehud Olmert for a PA state on nearly 95% of Judea and Samaria.