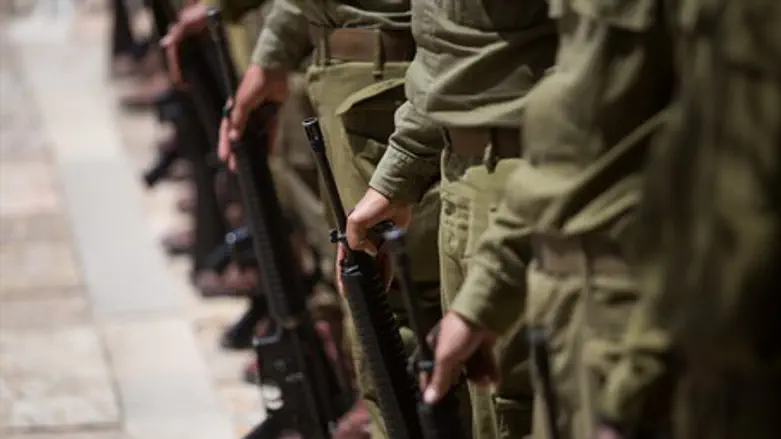 IDF soldiers (illustration)
Yonatan Sindel/Flash 90
Arab sources in Israel have revealed that a Muslim Arab citizen of Israel who served as a soldier in the IDF has gone to join Islamic State (ISIS).
The sources revealed to Walla! News Thursday that the citizen is a resident of one of the many Arab towns in Israel's north.
According to his military ID, he was scheduled to be released from regular army service in January 2014.
It appears he left Israel for Turkey and from there continued to Syria, taking his dog tags from his IDF days with him.
There are around 100 to 150 Arab Israelis currently fighting for ISIS or arrested by the group according to the sources, but this would be the first case of a released IDF soldier joining the Sunni jihadist group.
While Druze and Bedouin Arabs frequently serve in the IDF, most Arab citizens do not serve as they are not subject to a mandatory draft like Jewish citizens - both because many oppose the state and refuse to serve, and because of the security risk inherent in their enlistment.
A recent poll last month found that no fewer than 18.2% of Arab Muslim citizens of Israel said they do not consider ISIS to be a radical terrorist organization, and that they are not ashamed of the brutal jihadist group. That number rose to 28.1% among supporters of the outlawed Islamic Movement in Israel group specifically.
Support for ISIS among Arab Israelis has led to a growing trend of terror cells being formed to carry out attacks for the group.
Just this Tuesday, it was cleared for publication that a five-man ISIS terror cell in Nazareth was nabbed before conducting its planned attacks. The five had obtained weapons and trained in shooting them, ahead of launching lethal assaults on Israeli civilians.