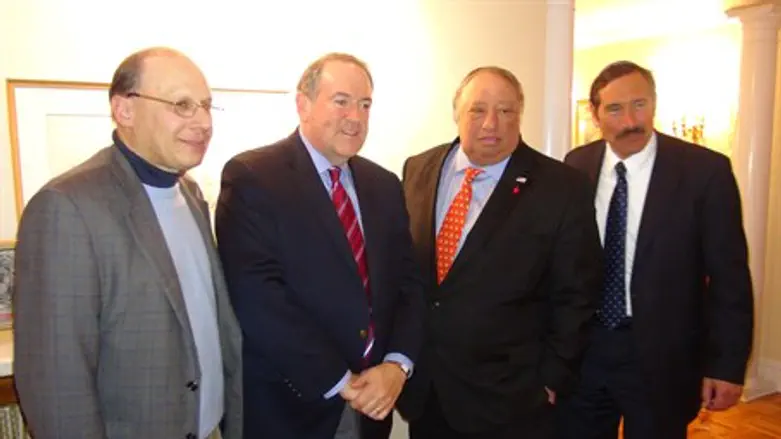 Abramowitz (L), Huckabee, John Catsimatidis, Frager
Uzi Baruch
Philanthropist Kenneth Abramowitz hosted former Arkansas governor and Republican presidential candidate Mike Huckabee in his Manhattan apartment this week, as part of a series of meetings with such public figures as Congressman Peter Roskam (R - IL) and the Wall Street Journal's Bret Stephens. 
"Everyone in the West thinks that war is fought with bullets or bombs," Abramowitz stated, in an interview with Arutz Sheva's Dr. Joseph Frager.
"But there's five forms of war in my mind: a physical war, obviously; an intellectual war, fighting with words; we can fight economically - 'I'm not going to pay you, I'm going to boycott you'; we can fight legally - 'You're an officer in the IDF, and I'm going to sue you for defending Jews'; and we also can fight demographically - my whole family's coming to your house and you can't push me out." 
Abramowitz further noted that while all forms of war are a threat, both in the US and in Israel, Westerners neglect to fund and address non-physical warfare. 
"We have to protect ourselves from each of the five forms," he emphasized.