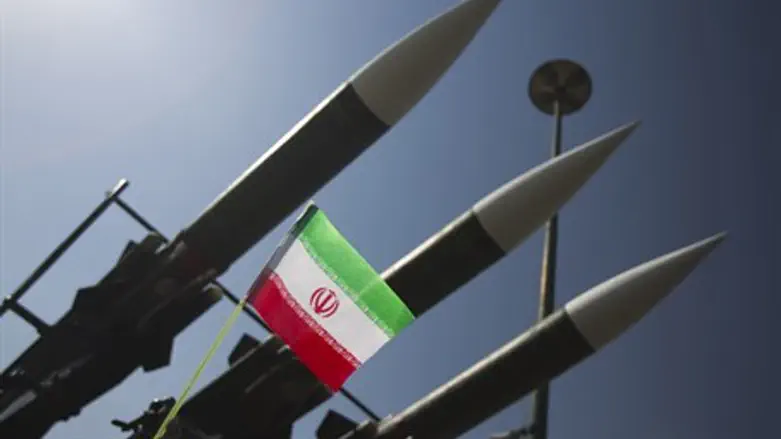 Missiles at a Revolutionary Guards parade in Tehran (archive)
Reuters
An American official confirmed to The Associated Press (AP) on Tuesday that Iran tested a ballistic missile last month, the second such test since signing the nuclear agreement with Western powers in July.
The State Department said only that it was conducting a "serious review" of such reports.
The test occurred November 21, the official said, coming on top of an October 10 test Iran confirmed at the time. The official said other undeclared tests occurred earlier than that, but declined to elaborate.
The November test was first reported Monday by Fox News, which said a mid-range missile, the Ghadr-110, was launched from a known site near the Gulf of Oman.
If the test indeed took place, it is a violation by Iran of UN Security Council resolution.
Earlier on Monday, the American Ambassador to the UN, Samantha Power, said Washington was reviewing reports of the Iranian test.
She added that if Washington confirmed those reports, the United States would bring the issue to the 15-nation council and seek appropriate action.
According to the official who spoke to AP, the U.S. assesses that hardliners opposing the nuclear deal struck by Iran's moderate President Hassan Rouhani may be trying to provoke the United States into authorizing new sanctions against Iran, and raising tensions between Washington and Tehran.
State Department spokesman John Kirby refused to confirm the test.
"We're conducting a serious review of this reported incident," Kirby told reporters. He added, "If the reports are confirmed and if there is a violation of any relevant UN Security Council resolution, then we're going to take the appropriations actions."
Shortly after the October missile test, White House press secretary Josh Earnest said Iran likely violated UN sanctions, but stressed that the test would not affect the implementation of the deal reached with world powers.
Power later stated the missile launched by Iran is a "medium-range ballistic missile inherently capable of delivering a nuclear weapon".
Iran has rejected claims that the missile was capable of delivering a nuclear warhead and also rejected the idea that the missile test was against UN resolutions.
Nevertheless, the United States, Britain, France and Germany subsequently called for the United Nations Security Council's Iran sanctions committee to take action over the missile test.
So far, no action has been taken by the committee, though Power said council members would be discussing the issue next week.