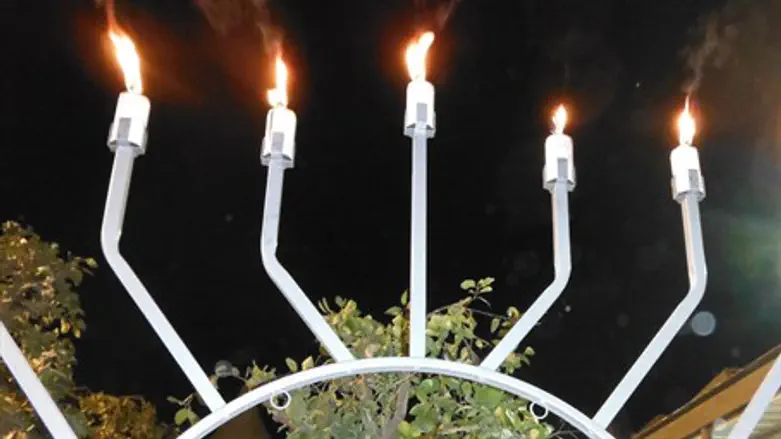 Hanukkah Menorah in Jerusalem (file)
Ben Bresky
Earlier this week, Israel's Attorney General's Office ordered Kotel Chief Rabbi Shmuel Rabinowitz to integrate women in the traditional state Hanukkah candle lighting ceremony.
Following those orders 100 women, including several female IDF soldiers, participated in the state candle-lighting ceremony at the Kotel Plaza on Sunday night for the first night of the holiday.
In addition, 20 members of the Women of the Wall group were granted permission by security guards to enter with their menorahs, and MK Ksenia Svetlova of the Zionist Union party used her parliamentary immunity to bring a communal menorah in to the women's section of the Kotel Plaza.
"We entered and held a candle-lighting ceremony where women were full participants," Svetlova said in a statement, "The Western Wall belongs to the entire Jewish people, women and men alike, and the time has come for real equality - at the Kotel, in the Rabbinate and beyond."
Still, the Women of the Wall said it was disappointed that they were once more barred from the main event, stating their candle-lighting ceremony was "second-class."
The main national candle-lighting ceremony was held last night (Sunday) in the men's section of the Kotel plaza, where the first candle was lit by Prime Minister Binyamin Netanyahu.
Rabbi Rabinowitz last week opposed the order to integrate women in the state lighting ceremony, arguing that women wishing to perform an alternative non-Orthodox ceremony lighting the Hanukkiya menorah (candelabra) should do so at the Ezrat Yisrael section, which was built in 2013 specifically to cater to Reform and Conservative Jews' demands at the Kotel.