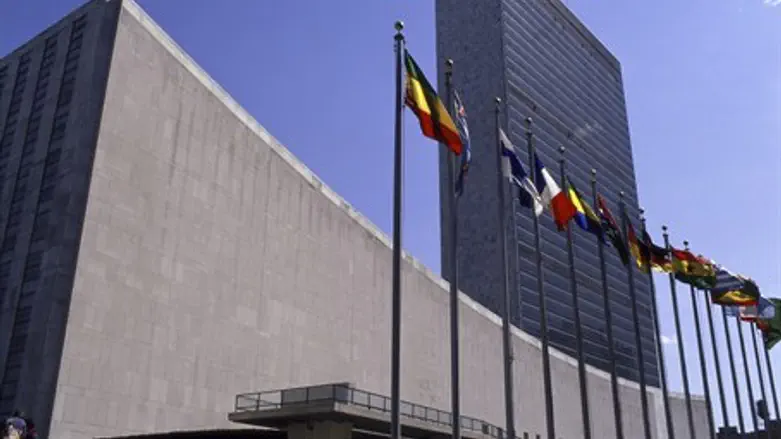 United Nations Headquarters
Thinkstock
The UN on Friday adopted an Israeli resolution on utilizing agricultural technology for sustainable development, with 124 votes in favor and 37 abstentions.
The adoption of the resolution marks a diplomatic achievement for Israel, especially considering the Arab group's automatic opposition to any Israeli resolution.
The resolution was adopted after complex diplomatic efforts that took place over several months. Even though the resolution can make a difference in many countries, especially in the Middle East, the Arab group still attempted to prevent passage of the resolution simply because it was submitted by Israel.
"It is quite ironic that the group of nations blocking a consensus on this resolution is the same group who would benefit from it most– the Arab group.  The need for agricultural technology in the Middle East is undeniable. Yet, as we are all painfully aware, these governments continuously put politics before people and pride before progress," said Israel's Ambassador to the UN, Danny Danon, who also declared, "The Israeli innovation beat the UN's hypocrisy."
Today, 75 percent of the world's population is poor and relies on agriculture for a living. The Israeli resolution promotes making agricultural technology more accessible in areas stricken by poverty, drought and hunger.
"Today's resolution is not only about agricultural technology. It is about improving the lives and livelihoods of millions of people across the developing world," said Ambassador Danon.
Just last week, the United Nations General Assembly adopted six resolutions, all of which condemned Israel and none of which condemned the wave of Palestinian Arab terror attacks.
In late October, Israel was accepted as a member of the United Nations Committee on the Peaceful Uses of Outer Space, again defeating Arab pressure not to allow Israel on the committee.
(Arutz Sheva's North American desk is keeping you updated until the start of Shabbat in New York. The time posted automatically on all Arutz Sheva articles, however, is Israeli time.)