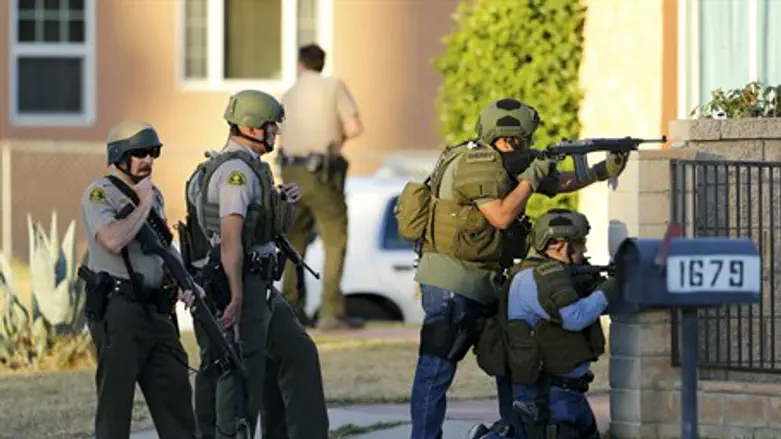 Scene of California shooting
Reuters
Police sources revealed to CNN on Thursday that Syed Farook, the 28-year-old American citizen who together with his wife and apparently his brother conducted Wednesday's brutal shooting attack in California, was in contact with terrorists.
The investigators told the station that Farook was in touch by phone and social media with more than one international terror suspect, without specifying what terror groups they belonged to.
In the shooting at a Christmas party in a San Bernardino social services center, 14 people were murdered and another 21 were wounded. Farook worked at the county's public health department that hosted the event.
An investigation of Farook and his wife's house later revealed thousands of more rounds of ammunition, 12 pipe bombs, and hundreds of tools that could be used to create pipe bombs or improvised explosives, according to police.
Just shortly before the terror link announcement, US President Barack Obama told journalists that "at this stage, we do not yet know why this terrible event occurred.
"We do know that the two individuals who were killed were equipped with weapons and appeared to have access to additional weaponry in their homes. But we don't know why they did it."
"It is possible that this was terrorist related but we don't know. And it's also possible that this was workplace related," added Obama.
Aside from Farook, also killed in the shootout with police was his wife Tashfeen Malik, 27, with whom he evidently traveled to Saudi Arabia in order to marry. Sources say the third arrested suspect is Farook's brother. 
A man identifying himself as Farook's father told the New York Daily News that he was estranged from his son, but that Farook "was very religious. He would go to work, come back, go to pray, come back. He's Muslim."
Government records show that Farook, 28, traveled to Saudi Arabia last year, the Wall Street Journal revealed.