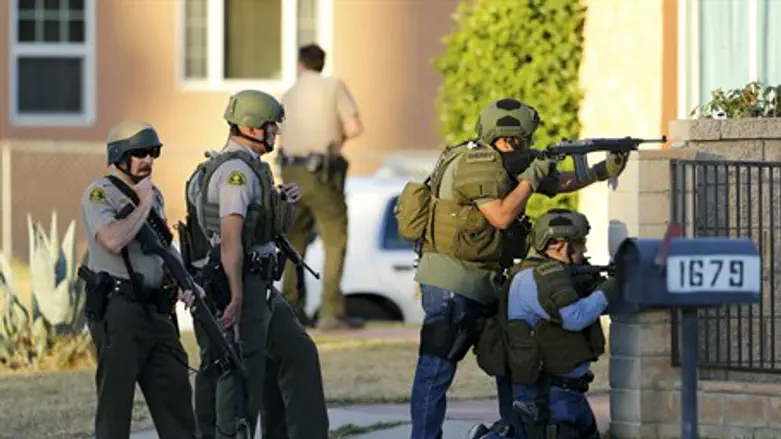 Scene of San Bernardino shooting
Reuters
The mass shooting during a Christmas party at a social services center in San Bernardino, California on Wednesday left 14 dead and 17 others wounded. 
Police initially said three assailants dressed in military-style gear and carrying "long gun" rifles opened fire at the Inland Regional Center at around 11:30 a.m. PST before escaping in a black SUV.
Police later tracked them down several miles away, opening fire on the vehicle and killing two suspects, a man and a woman, in the shootout. A third suspect, whose gender has not been identified, was detained nearby.
Law enforcement sources identified one of the slain suspects as Syed Farook, 28, an American citizen who worked at the San Bernardino County's public health department, which was hosting the party.
Tashfeen Malik, 27, was identified as the second dead suspect. The Associated Press, citing family members, says the two were married. 
According to NBC, a knowledgable source said another of the suspects is alleged to be Farook's brother. 
A man identifying himself as Farook's father told the New York Daily News that he was estranged from his son, but that Farook "was very religious. He would go to work, come back, go to pray, come back. He's Muslim."
Government records show that Farook, 28, traveled to Saudi Arabia last year, The Wall Street Journal revealed. While authorities are not necessarily attaching any importance to the trip, they have begun investigating his background. 
According to Farook's co-workers, he met Malik online and traveled to Saudi Arabia to marry her before bringing her home to the US. 
Police have so far conducted a high-risk search warrant at a home in Redlands, CA which belongs to Farook's family. 
Addressing the shooting, San Bernardino Police Chief Jarrod Burguan told reporters that "obviously, at minimum, we have a domestic terrorist-type situation that occurred here." 
"They came prepared to do what they did as if they were on a mission," he added. 
David Bowdich, the assistant director of the FBI's Los Angeles Field Office, was more cautious, but said terrorism was a "possibility."
"We will go where the evidence takes us. It's possible it goes down that route; it's possible that it does not."