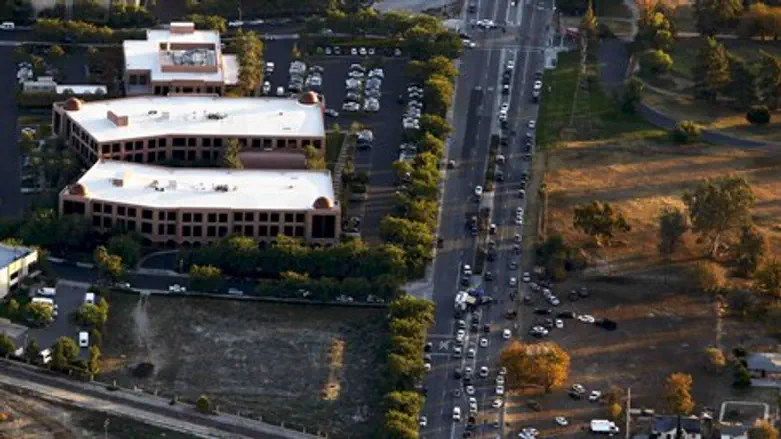 The Inland Regional Center
Reuters
At least 14 people were killed and 17 injured on Wednesday in a shooting attack at a social services center in southern California.
Three assailants in military-style gear and carrying what police later described as "long guns" opened fire at the Inland Regional Center in San Bernardino, California, 60 miles (95 kilometers) outside of Los Angeles. 
Local authorities said the victims were attending a holiday gathering for local government workers.
The shooters fled in a black SUV, and police later tracked them down several miles away, opening fire on the vehicle and killing two suspects, a man and a woman. A third suspect was detained nearby.
In addition, police served a search warrant on a home in Redlands, California, in connection with the deadly shooting.
According to The Associated Press, city spokesman Carl Baker said Redlands police are assisting San Bernardino police in the search.
At a press briefing on Wednesday afternoon, several hours after the shooting, FBI official David Bowdich said officials will apply "all the resources necessary … to assure we have chased down every lead".
FBI agents are searching the house in Redlands now, he added.
According to a report on CNN, one of the suspects was at the holiday event where the shooting took place. A law enforcement official told the network there was a dispute at the event and the man left. It is believed he then returned with two other suspects.
Police Chief Jarrod Burguan confirmed there was a dispute at an event at Inland Regional Center. Someone left the event after the dispute, he said, but it was unclear whether that person was later involved in the shooting.
The dead suspects had assault-style rifles and handguns, Burguan told reporters, according to CNN, adding they were dressed in what he called "assault-style clothing".
Police have yet to establish a motive. Asked if the incident was terrorism, Bowdich replied, "I am still not willing to say if we know that for sure … It is a possibility but we don't know that yet and we're not willing to go down that road yet."
Homeland Security Advisor Lisa Monaco earlier briefed US President Barack Obama on the shooting. 
Obama, for his part, reiterated that there are too many shooting incidents in the United States. The comments came in an interview with CBS News filmed shortly after the California shooting.
Israel's Foreign Ministry has indicated it is not aware of any Israeli victims in the shooting.
The center primarily caters to over 30,000 people with developmental disabilities, and has 670 staff members, according to its Facebook page.
Photos: Reuters.