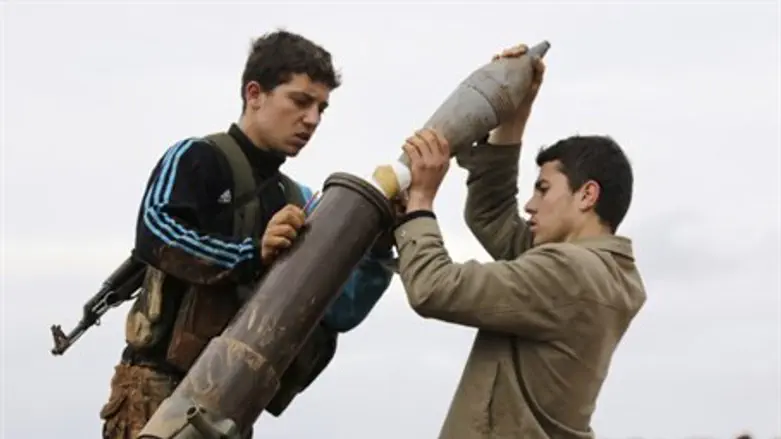 Al Nusra Front rebels
Reuters
Al-Qaeda's Syrian affiliate on Tuesday handed Lebanese authorities the body of a soldier it executed last year, in the first stage of a delicate hostage exchange deal, authorities said.
The transfer appeared to be the first step in a complex negotiation under which Al-Nusra Front is expected to free 16 Lebanese servicemen it holds in exchange for Lebanon releasing prisoners and handing over aid.
"In the framework of the follow-up in the case of the kidnapped soldiers held by Al-Nusra Front, and as the result of negotiations on the issue, General Security and the Lebanese Red Cross received the body of the martyr soldier Mohammed Hammiya," Lebanon's general security body said in a statement.
Hammiya was one of several dozen Lebanese soldiers and policemen kidnapped by Al-Nusra and the Islamic State group from the eastern border town of Arsal in August 2014 after the jihadists crossed over from Syria.
The Lebanese government and Al-Nusra announced in September 2014 that he had been executed by Al-Nusra.
His execution, one of two carried out by the Al-Qaeda affiliate, followed the deaths of two other Lebanese soldiers who were beheaded by ISIS.
Al-Nusra and ISIS briefly overran Arsal in August 2014, fighting pitched battles with security forces before withdrawing under a truce negotiated by clerics.
But they took with them some 30 hostages, four of whom were subsequently executed. A fifth died of wounds sustained during the Arsal fighting.
The fate of the remaining 25 policemen and soldiers has been an ongoing crisis for the Lebanese state, which has entered negotiations multiple times to try to secure their release.
In recent days, there have been recurring reports that the 16 held by Al-Nusra will be freed in return for the delivery of aid and the release of family members of jihadists.
Among those Lebanon is reportedly willing to release are Saja al-Dulaimi, ex-wife of ISIS leader Abu Bakr al-Baghdadi, and Ola al-Okaili, wife of Abu Ali al-Shishani, a Nusra commander who joined ISIS.
On Sunday, the exchange appeared set to take place, with a convoy of security personnel and aid waiting in Arsal, but a security source said the transfer hit a roadblock after Al-Nusra imposed new conditions.
Relatives of the missing servicemen have set up protest camps in downtown Beirut and staged regular demonstrations to pressure the government to secure the release of their loved ones.
AFP contributed to this report.