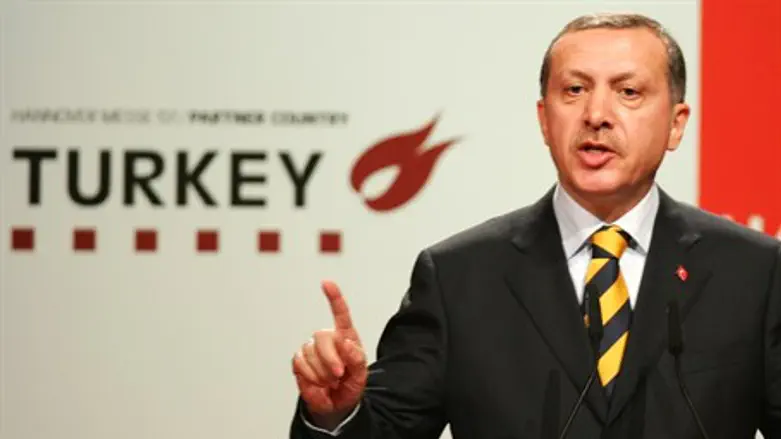 Turkish President Recep Tayyip Erdogan
Thinkstock
Turkey's President Recep Tayyip Erdogan on Monday said he thinks it would be possible to repair the strained ties between his country and Israel, in light of the events in the region.
Erdogan made the comments to a Kol Yisrael radio reporter on the sidelines of the UN climate conference in Paris, but he did not provide further details.
Israel-Turkey relations have, of course, been strained for years as Turkey under Erdogan has become more and more Islamist.
The relations broke down completely following the 2010 flotilla to Gaza, when the Turkish Mavi Marmara ship, which claimed to be providing "humanitarian aid for the people of Gaza," defied orders to turn around and dock at the Ashdod port. After it ignored repeated warnings to change course, the IDF boarded the vessel - only to be attacked by Islamist extremists on board.
The soldiers had no choice but to open fire, resulting in the deaths of nine of the IHH members on board. After an investigation, Israeli authorities discovered the vessel to be carrying no humanitarian aid - in fact, no aid supplies at all - whatsoever. 
When Israel refused Turkey's demand that it apologize for the incident and compensate the victims' families, Turkey cut ties with the Jewish state.
Prime Minister Binyamin Netanyahu later apologized to Erdogan, who was then Turkey's Prime Minister, over the Marmara incident at the urging of the United States.
The sides were supposed to enter talks on compensation for the victims of the Marmara, but those seem to have stalled.
Erdogan's comments regarding repairing the ties come as somewhat of a surprise as he has never stopped his verbal attacks and incitement against Israel, even after Netanyahu's apology. His most recent attack on Israel came last week, when he praised the latest Palestinian terror wave against Israel as a "noble fight" by the Palestinians.
Reports earlier this year indicated that Israeli-Turkish relations are undergoing a normalization process, which has been sparked - at least in part - by changes in the Israeli Foreign Ministry.
Those reports said that the improving relations between the countries could lead to security cooperation between them regarding Syria - from which both countries can benefit.