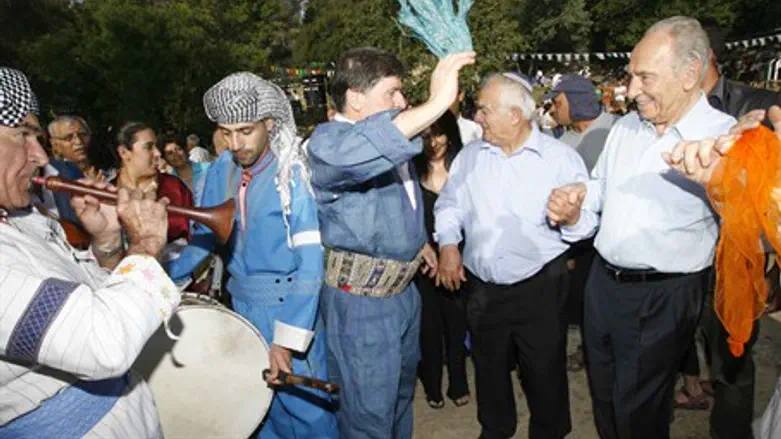 Kurdish Jews in Israel (file)
Michal Fattal/Flash 90
A ceremony marking the deportation of Jews from Iraq seven decades ago was held for the first time on Monday in the country's autonomous Kurdish region.
It also marked the beginning of Jewish representation in the Kurdistan region's religious affairs ministry as a result of a law passed in May to promote minority rights.
"The law says that if there was one person from the followers of any religion, his rights are preserved," said Sherzad Omar Mamsani, the Jewish representative at the Kurdish regional ministry.
The ceremony in Kurdistan capital Arbil was attended by Kurds of Jewish origin and officials who also visited an exhibition of old photographs and records documenting Iraqi Jewry.  
According to Mamsani, the ceremony is the first of its kind and marks what is known as the "Farhud", the bloody, Nazi-inspire Arab pogrom that led to the flight and deportation of Jews from Iraq.
Mamsani, who has Jewish origins, said he estimated that the families who self-identify as Jews in Kurdistan but are still officially registered as Muslims numbered around 400.  
He added that the number of families who converted to Islam but "are Jews in origin" was in the thousands.  
Zach Huff, an American researcher living in Israel and specializing in Kurdish affairs, said he hoped Monday's ceremony was the start of a Jewish revival in the Iraqi region of Kurdistan.
"There are about 200,000 Kurds living in Israel and close to 100,000 living in and around Jerusalem," he told AFP referring to Jews whose ancestors made aliyah to Israel from Kurdistan.
"They do actually long to connect with their roots in Kurdistan even if they're second or third generation," Huff said. "They see that Kurdistan is open and welcoming them with open arms."
"I do predict that there will be a lot more business, tourism and a closer relationship in the near future between Jewish Kurds and the people of Kurdistan," he said.  
There is no active synagogue in the region but Mamsani has said he hoped that would change soon.
AFP contributed to this report.