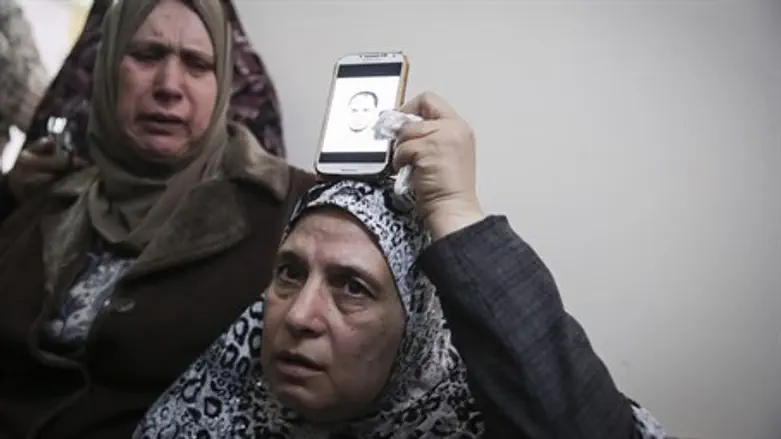 Mother of terrorist Mu'taz Hijazi (illustration)
Hadas Parush/Flash 90
Palestinian Authority (PA) Minister of Women's Affairs Haifa Al-Agha, who is herself a woman, recently said Palestinian Arab women are "unique" in the world because they rejoice at the death of their sons - terrorists killed trying to murder Israelis.
In statements published by the official PA daily Al-Hayat Al-Jadida earlier this month and revealed on Monday by Palestinian Media Watch (PMW), Al-Agha explained about the joy over "martyrdom," namely dying while trying to conduct a lethal terrorist attack.
"(PA) Minister of Women's Affairs Haifa Al-Agha...noted the Palestinian woman's uniqueness, which differentiates her from the women of the world, as (only) she receives the news of her son's martyrdom with cries of joy," wrote the official PA paper.
Interestingly enough, Al-Agha who hails from Gaza was formerly the director of the Hamas government's Ministry of Education. She was sworn into the new Palestine Liberation Organization (PLO) unity government, which the US falsely claimed did not include Hamas members.
Al-Agha's comments come in the midst of a massive Arab terror wave, which has already left 22 victims murdered since mid September, and which Defense Minister Moshe Ya'alon (Likud) last Friday admitted that he doesn't know when it will end.
PMW notes that by praising mothers for their "cries of joy," the minister "is sending a message to PA society to attack Israelis without fear of death because Martyrdom for Allah is said to be the highest value and highest achievable status."
The minister also noted the active role of female Arab terrorists, saying, "the Palestinian girls and women have proven their ability to contribute to their homeland, and that they have a significant presence in the field and battle arenas."
Al-Agha's sentiment is not unusual for the PA, which has regularly incited for terrorism during the current wave of attacks.
PA Chairman Mahmoud Abbas has refused to condemn the murder of Israelis. He in fact largely set off the current terror wave by praising the blood shed in Jerusalem "for Allah" and calling to stop "filthy" Jews from visiting the Temple Mount.