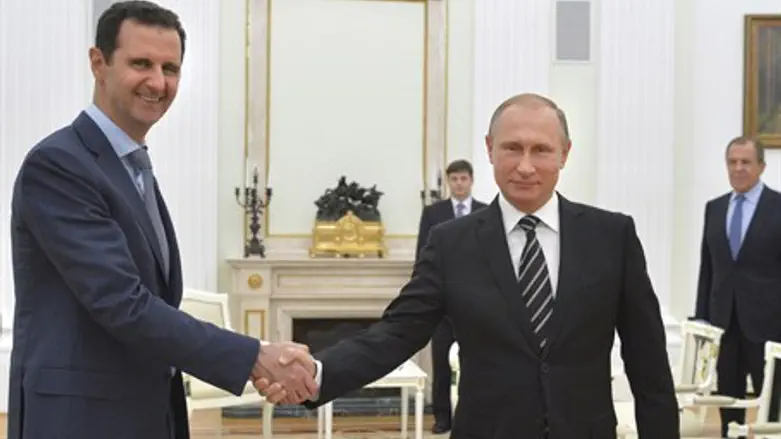 Bashar al-Assad visits Vladimir Putin
Reuters
Turkey's downing of a Russian jet has played into the hands of Syrian President Bashar al-Assad by bringing Moscow on board with his bitter opposition to Ankara, experts say.
On Thursday, Moscow announced it was preparing economic measures against Ankara two days after Turkish forces shot down a Russian plane that crashed in Syrian territory.
Russia has already warned its nationals against visiting Turkey and stepped up controls of Turkish agricultural imports in the wake of the incident.
And Russia's leaders have had harsh words for Ankara, with President Vladimir Putin deeming the plane's downing a "stab in the back committed by accomplices of terrorists."
"President Assad ought to send Turkish President (Recep Tayyip) Erdogan a telegram of thanks because he has pushed Moscow's position in his favor," joked one Syrian politician close to the regime.
"Assad and Putin already agreed that the fight against terrorism comes before a political solution. Now Moscow is going further and considers, like Damascus, that Turkey supports terrorism," he added.
Assad has long accused Ankara of "terrorism" for its backing of Syria's opposition.
"The only winner from these latest developments is Assad," wrote Henri Barkey and William Pomeranz of the Woodrow Wilson International Center think tank in an article for CNN.
"After all, one of his regime's primary antagonists (Turkey) is now starkly at odds with his most important backer (Russia)," the experts said.
"Significant escalation"
Moscow is a long-standing ally of the autocratic leader Assad and has staunchly backed him throughout the conflict that erupted with demonstrations against his rule in March 2011.
In late September, it upped its committment, launching air strikes in support of Assad's forces for the first time.
Its policies have put it at odds with Turkey from early in the Syrian conflict, with Ankara regularly calling for Assad's departure and incurring the wrath of Damascus in return.
"This escalation is significant, because until now, despite major differences over Syria, Russian-Turkish relations remained very cordial, and economic and tourism ties very solid," said Karim Bitar of the Institute for International and Strategic Affairs.
"Putin and Erdogan have a lot in common: authoritarianism, nationalism, oversensitivity and a taste for grandstanding and strokes of brilliance, but Putin seems to have more control of his nerves, while Erdogan seems often to be carried away by his emotions," Bitar told AFP.
Spat comes at delicate time
Ruchan Kaya, Turkey expert at the Istanbul-based Caspian Strategy Institute, said it was unlikely the jet incident would provoke a "dramatic change" in either country's approach to the conflict.
"Russia may however be more vocal and open about its support of the Assad regime and indirectly retaliate by battering groups inside Syria that are allied with Turkey," she said.
In addition to its military and financial support for Assad, Moscow has also sought a key role in any political resolution to the conflict in Syria.
It participated in talks in Vienna earlier this month that produced a framework for a transitional government, a new constitution and elections.
But the talks did not touch on the future of Assad, and Russia has been publicly insistent that he remains the rightfully-elected president of Syria.
Moscow has even sought, so far without success, to enroll nations that back Assad's opponents in a broad coalition against the Islamic State (ISIS) group that would coordinate its actions with Damascus.
On Friday, French Foreign Minister Laurent Fabius appeared to suggest Paris was softening its line on the issue, saying ground troops fighting ISIS in tandem with international strikes could include Syrian government forces.
But he said this could only happen after a change of regime in Damascus.
Muriel Asseburg, a senior fellow at the German Institute for International and Security Affairs, said the spat came at a delicate time as international powers seek a compromise on Syria's conflict but also to bolster their allies.
"The incident will be used by Russia to pursue its interest in Syria in an even more determined fashion," she told AFP. "That poses the danger of more direct conflict with other regional and international powers."
"More military aid for the regime might discourage it to engage in serious talks with the opposition. At the same time, it increases Russian leverage."
AFP contributed to this report.