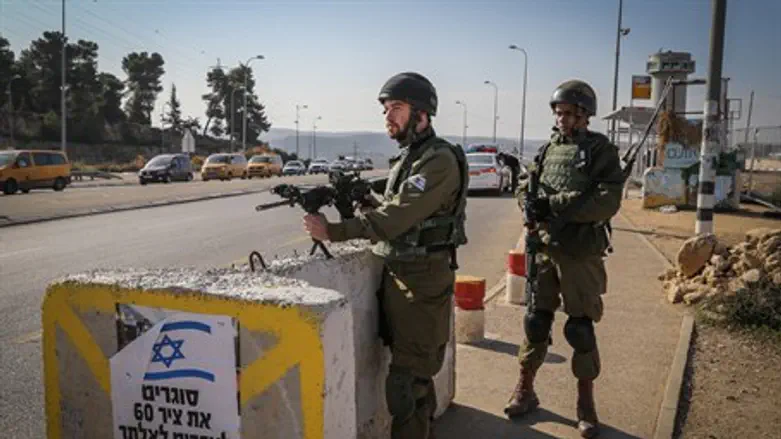 Alert soldiers shot dead the attacker
Gershon Elinson/Flash 90
An Arab attempted a stabbing attack in the Hatmar Junction (also known as the Territorial Brigade junction - ed.) in Samaria on Monday afternoon, close to 3:00 pm.
The stabber was eliminated by IDF soldiers at the scene before he was able to harm anyone.
The incident is one of a series of attacks Monday. Just minutes after, an Israeli was murdered in a stabbing at a gas station along Highway 443 north of Jerusalem, which also left another person wounded.
They bring the total number of attacks Monday to four, follow two this morning, one in central Jerusalem and another in Samaria.
In the former attack, two people were wounded when two female Arab terrorists launched a stabbing attack next to the Mahane Yehuda market.
In the second attack, which occurred just one hour later, a teenager was lightly injured in a suspected car-ramming attack in northern Samaria. Security forces are still attempting to locate the Arab driver who carried out that attack.
In a similar attack on Sunday morning, a female Palestinian Arab terrorist attempted to stab pedestrians at Brigade Square in Samaria. 
Her attempt was thwarted after former Samaria Regional Council head Gershon Mesika, who lives in Elon Moreh close to the intersection, plowed his car into her. 
Soldiers on duty then shot her, neutralizing her on-site.