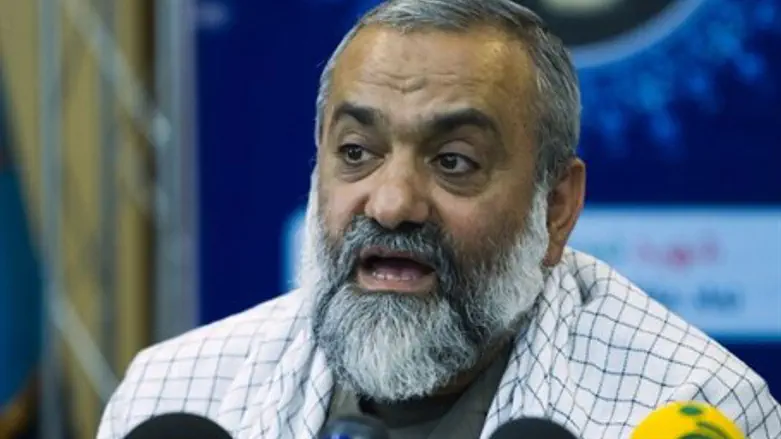 Mohammed Reza Naqdi
Reuters
Muslim terrorists belonging to Islamic State (ISIS) murdered at least 129 people in Paris on Saturday - but according to a top Iranian general, Israel is to blame.
Brig. Gen. Mohammad Reza Naqdi, head of Iran's Basij paramilitary force, made the baffling assertion on Wednesday, as cited by the semi official Fars News Agency.
"If we write the word Israel instead of ISIS, the behind the scene of the recent events in France will come into light," he claimed as quoted by the Iranian paper.
"ISIS is the infantry unit of the US and the usurper Zionist regime since they don't have fighters today anymore and have lost power to fight, and they have created ISIS by making investment on the fools," he said. "Such events should happen in Europe in order for the US and its hirelings to be able to justify their presence in the region and escape from criticisms."
Not only did the general in the Shi'ite regime blame Israel and the US for being behind the jihadist group, he also blamed Iran's regional rival Saudi Arabia. According to him, the Sunni state is "the dealer of the recent incidents," it "founded" ISIS, and "as long as the US is unable to fill the banking accounts of its arms companies with the Saudis' money, these wars and cruel massacres will continue."
An echo of Europe
Naqdi wasn't done, however, going on to accuse the West of trying to spread "Islamophobia," apparently accusing the US of staging the attacks by Muslim terrorists to raise anger against Islam.
Ironically, the statements by the general of the leading state sponsor of terrorism do not fall far from recent remarks by European officials who also blamed Israel - or more specifically "frustration" at Israel - for the ISIS attacks on French civilians.
Jan Marijnissen, head of the Dutch Socialist Party, on Monday asserted that the attack is "connected also to the Palestinian-Israeli conflict."
The same day, Swedish Foreign Minister Margot Wallstrom linked the attack to how "the Palestinians see that there is no future: we must either accept a desperate situation or resort to violence."
Israel responded by pointing out the claims are "baseless," with Deputy Foreign Minister Tzipi Hotovely (Likud) calling them "blatant and vile anti-Semitism" and equivalent to a "blood libel."
Naqdi is no stranger to volatile comments.
In July he said Iran hates America "100 times more" for the nuclear deal. Days later he aired his conspiracy theory that Israel and the US control ISIS, but instead of Saudi Arabia, back then he posited that the US and Israel created ISIS.
Back in March, as the controversial nuclear negotiations were in full swing, he said "wiping Israel off the map is not up for negotiation."