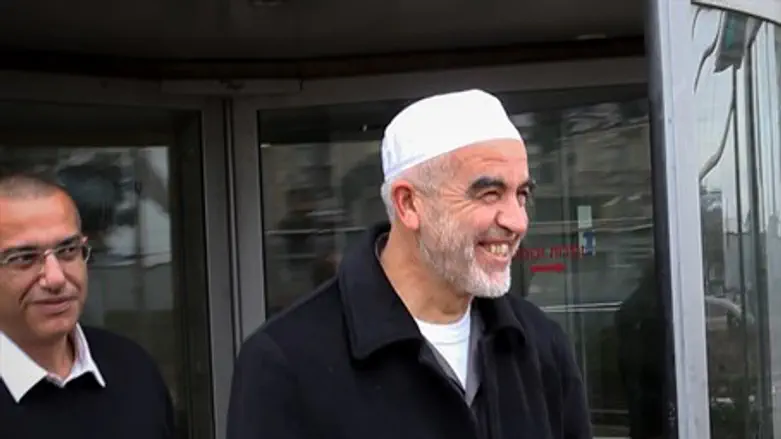 Islamic Movement head Raed Salah after outlawing
Basel Awidat/Flash 90
The radical Islamic Movement in Israel was declared illegal on Tuesday for its long past of incitement to terrorism, particularly on the Temple Mount, but according to senior Hevron activist Baruch Marzel the move is "too little, too late."
"It's good that they declared the Islamic Movement illegal, but the thought that the entire problem is (the movement's head) Raed Salah and members of (the Arab) Balad (party) is a huge problem," said Marzel, who ran with Otzma Yehudit in the last elections and nearly entered the Knesset.
"Those who want to eliminate the state of Israel and do it in a nicer way are no less dangerous, and they and their activities should be declared illegal," he added, in a possible reference to the Joint List of Arab MKs, which currently is the third largest party.
The decision saw Islamic Movement offices raided and closed, and due to the move those working with the group can be jailed, and all property belonging to it can be seized.
However, Marzel said the move is ineffective as long as money is allowed to continue streaming into the group from oil-rich Arab states and other hostile countries.
"Making the Islamic Movement illegal will be a slap on the wrist for them, they will recuperate from it quickly with renewed and strengthened activities," he warned.
Also calling for firmer actions was the Im Tirtzu Zionist group, which turned to Education Minister Naftali Bennett (Jewish Home) asking that he order the heads of institutions of higher education to outlaw the Islamic Movement's student groups, which go by the name Ikra.
The cells operate at Beit Berel College, Hebrew University, Tel Aviv University and Haifa University, among others.
"After the announcement of the government of Israel that the Islamic Movement will be made illegal for its support of Palestinian terror and close ties with Hamas, we ask the education minister, in his role as chairman of the higher education council, to outlaw the student groups of the Islamic Movement (Ikra) from the campuses of higher education institutions in Israel," wrote Im Tirtzu.
Israeli Police issued a statement on Tuesday afternoon regarding the outlawing of the radical Muslim group, writing, "in the framework of the activities against the Northern Branch of the Islamic Movement materials, computers, media, documents and monies were seized, and bank accounts were frozen."
"According to suspicions, all of these served the institutions and organizations of the Branch, in its activities against the security of the state."