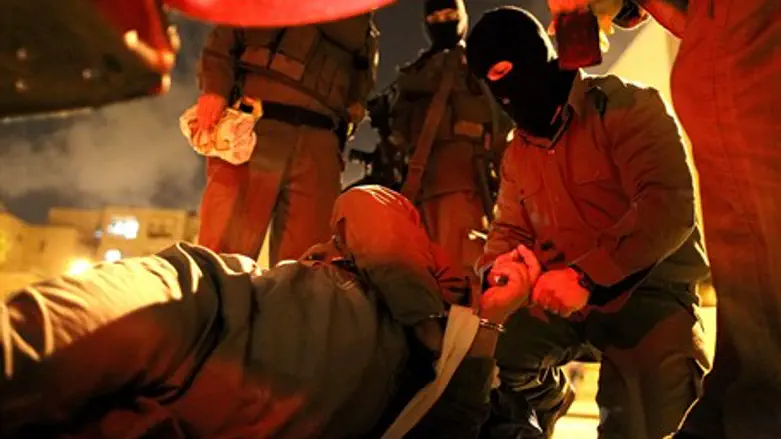 IDF arrests terrorist (illustration
Nati Shohat/Flash 90
A new survey has found that most Israelis are in favor killing terrorists, even if the terrorist was already neutralized by security forces.
The survey was part of the monthly Peace Index survey carried out by the Gutmann Center, the Israel Democracy Institute, and Tel Aviv University. The latest questions focused on the recent wave of terror's impact on Israeli society, particularly how it affects Arab-Israelis.
A significant number of respondents, 38.5 percent, reported that the terror attacks have forced them to change their day-to-day lives. This number includes 35 percent of Jewish Israelis and 53.5 percent of Arab-Israelis.
In addition, 60 percent fear that they, or someone close to them, will be harmed in a terror attack in the near future.
In response to the question, "Any Palestinian who carries out an attack should be killed then and there, even if he has been detained and is no longer a danger," 53 percent agreed with the statement and 44 percent did not.
Among Jews, 79.5 percent approve of destroying houses belonging to the families of Palestinian terrorists who killed Jews, though only 41 percent agree when it's Jews who killed Palestinians. Arab-Israelis largely disagreed with house destructions, both against Palestinian terrorists (76.5 percent) and against Jewish terrorists (67 percent).
Fifty-nine percent say that the court sentences for Arab terrorists are too light, while 17 percent say they are appropriate and 11 percent say they are too harsh.
Almost three-quarters of Israelis (74 percent) do not believe that the terror wave is a direct result of Palestinian frustration over a stalled political process. Among Arab-Israelis, though, 50 percent believe that the statement is true and only 33 percent disagree with it.
Regarding prayer on the Temple Mount, 51.5 percent of Israelis think that Prime Minister Netanyahu's conduct is bad or evry bad, and 32 percent say it is very good or exceptional. At the same time, 62.5 percent of respondents (including 58 percent of Jews) say that Jews should not be allowed to pray on the Temple Mount at the present time.
Fifty-six percent of the public says that the government's handling of the terror wave is bad, compared with 37 percent who say it is good or excellent. However, the public praises the security forces - 82 percent say that the IDF is handling itself very well or excellently (among Jews alone this rating goes up to 92.5 percent). Seventy-five percent (84 percent of Jews) give the same score to the police, and 62.5 percent (72 percent) have positive opinions on the Shin Bet's performance.
The largest negative opinion was focused on Arab MKs, who received a failing score from 62.5 percent of Israelis. Even among Arab-Israelis, 40 percent said the Arab MKs' conduct is very bad or terrible, while only 38 percent say it is very good or excellent.