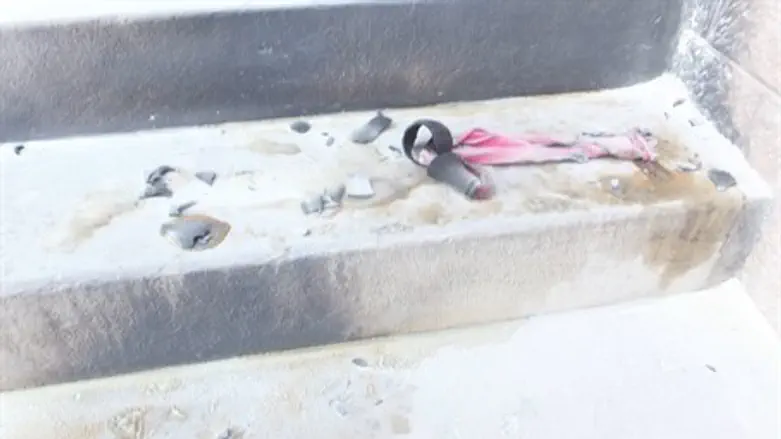 Firebomb at Jerusalem District Court
Fire and Rescue Jerusalem spokesperson
The Jerusalem District Court was attacked Monday morning with a firebomb, apparently thrown by an Arab terrorist.
An initial investigation reveals that a Molotov cocktail hurled at the security post in the court's courtyard.
The firefighters who were dispatched to the scene report that the firebomb exploded on the steps of the security post.
Light damage was caused to the structure, which is located on Salah al-Din Road not far from Hebrew University's Mount Scopus Campus.
Jerusalem Councilman Arieh King lost no time in responding to the incident on Monday morning, writing on Facebook: "from this morning on, you can expect to see a change in the policy of punishment from judges at the Jerusalem District Court."
"Why? Just an hour ago the Jerusalem District Court was attacked by terrorists with Molotov cocktails."
"Currently, when their spacious offices, and their official cars are in danger of being burned, I expect that several judges will stiffen the punishment against terrorists when they come to the honorable court," concluded King cynically.
Court guard post hit by the firebomb
Fire and Rescue Jerusalem spokesperson