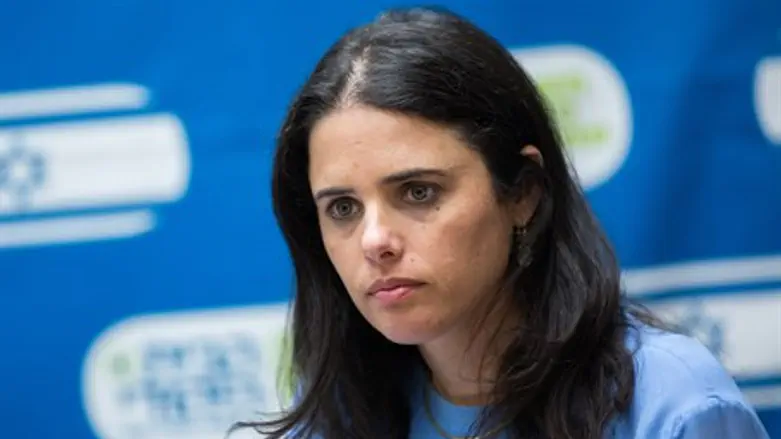 Justice Minister Ayelet Shaked
Yonatan Sindel/Flash 90
Justice Minister Ayelet Shaked (Jewish Home) will publish Sunday details of the Transparency Law - her proposal to amend the requirements for non-governmental organizations (NGOs) which receive foreign funding to gain and retain legitimacy in Israel. 
Many Israeli NGOs receive funding from foreign entities, contributing to those countries indirectly affecting Israeli policy - including blatant interference in Israel's internal affairs. 
To combat the phenomenon, Shaked is proposing a number of crucial criteria, as follows: 
NGOs whose main funding stems from foreign sources must publicize that fact in advertisements and public reports;
every request the NGO makes of a public official must be made in writing, and foreign funding must be noted in that written request or address;
all written disclaimers regarding foreign funding must name the countries and/organizations in question contributing to said NGO;

lobbyists - or representatives of NGOs operating the Knesset and elsewhere - will be required to wear ID tags at all times naming which organizations they represent; and

the fine for breaching any one of these requirements will be 29,200 shekels ($7555). 
"Blatant interference of foreign countries in the internal affairs of the State of Israel with money is an unprecedented phenomenon, which has a broad scope, which violates all rules and accepted norms of democratic relations between nations," Shaked stated Sunday morning. 
Foreign support, she added, "undermines the sovereignty and nature of Israel and undermines the authority of the government elected by the public."
"For example, we saw how the report of the UN commission of inquiry, which accuses Israel of war crimes and intentional harm to civilians during Operation Protective Edge was based on evidence of major non-governmental organizations - Israeli organizations [with foreign funding - ed.], such as B'Tselem, Breaking the Silence, Adalah, and more." 
Shaked emphasized that the law would not infringe on freedom of expression, but would merely make the associations between NGOs and foreign backers more apparent. 
"It's the public's right to know which representatives are stirring the pot," she added.