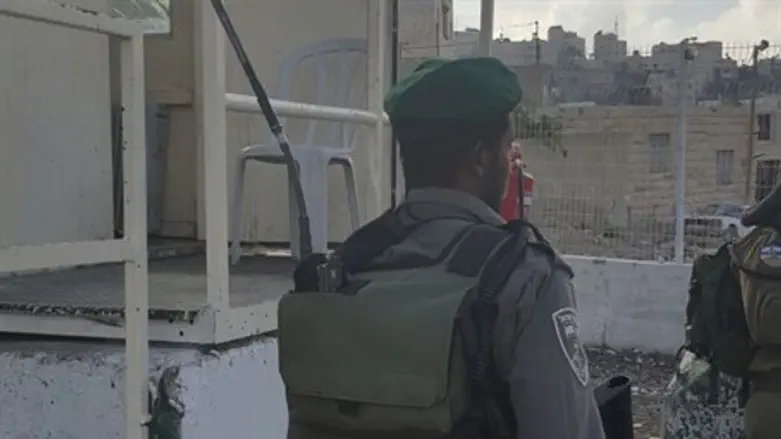 G. at the scene of the attack
Police spokesperson unit
Staff Sergeant G. of the Border Police reenacted on Thursday how he took down an Arab terrorist in Judea's Hevron earlier in the morning, after the terrorist stabbed an IDF soldier and lightly wounded him.
The terrorist arrived at a security block leading towards the Cave of Machpelah, and thanks to the distraction of Arab rioting at the site he approached a Border Police post, whipped out a knife and stabbed an IDF soldier in the face, lightly wounding him.
The wounded soldier managed to push the terrorist away, at which point G., who serves as commander of the post, identified the terrorist and cocked his weapon. He sought an angle to shoot the terrorist, who began fleeing with his knife still drawn.
While chasing after the terrorist, G. together with Staff Sergeant A. managed to shoot and kill the terrorist.
"After the terrorist was neutralized the fighter who was with me guarded the post, I ran to give an initial medical response to the wounded soldier. I bandaged his head until a medic arrived to treat him," recalled G.
"In incidents like these you don't have a moment to think, you act on instinct."
Superintendent Vasim Ashker, commander of the 37th Brigade of the Border Police, said, "thanks to the decisive actions of the fighters and the IDF soldier the incident ended as it did; the quick and firm operational responses of the fighters prove themselves time after time."
"We are witnesses to professional activities by the security forces in recent incidents, which is a central reason why the incidents end quickly, with minimum wounds to innocent civilians and security forces," added Ashker.