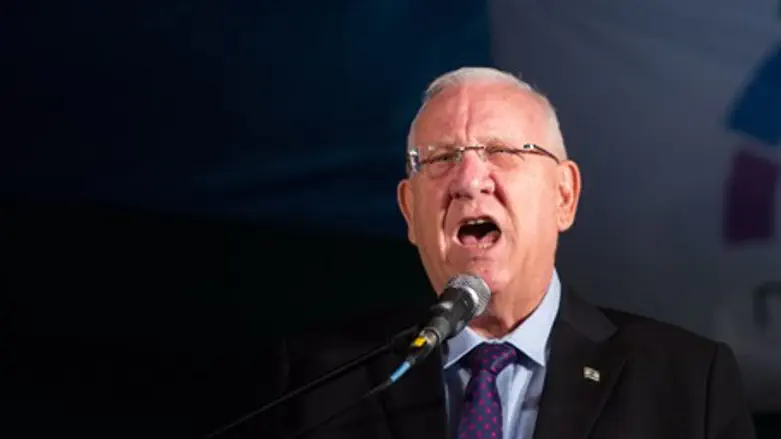 President Reuven Rivlin
Yonatan Sindel/Flash 90
President Reuven Rivlin responded to the charges filed against Haggai Amir for threats against him on Wednesday by saying he is concerned not for his life, but for Israeli democracy. 
Amir - brother of Yigal Amir, the assassin of former Prime Minister Yitzhak Rabin - was arrested Tuesday after posting a Facebook rant against the President close to the 20th anniversary of Rabin's murder.
"I do not fear for my life at all and my wife is not afraid," Rivlin declared. "We are worried for [our] democracy." 
"You have to understand, today the internet has become the town square - the town square of the Israeli people and people all over the world," Rivlin said. "Whenever there is a question of incitement or freedom of speech, I support the court's lenient interpretation of what constitutes freedom of speech in Israel."  
"On a personal level, I have no fear, but also on a personal level I fear for our democracy," Rivlin reiterated. "Freedom of speech is above all else, but when in doubt, we must make clear that freedom of speech is more important to us as a democracy than anything else."
Amir, for his part, announced on Wednesday that he "did not regret" his words, as they are a "political protest."
"These remarks are sheltered within the scope of freedom of speech," argued Ari Shammai, Amir's lawyer. "Since his release from prison, Amir has become a peace-loving person. This is not a violent man who will pick up a weapon and try [to attack] Rubi Rivlin."
Amir, who served a 16.5-year prison sentence for involvement in Rabin's assassination, had his detention extended by the Tel Aviv Magistrates' Court for three days.