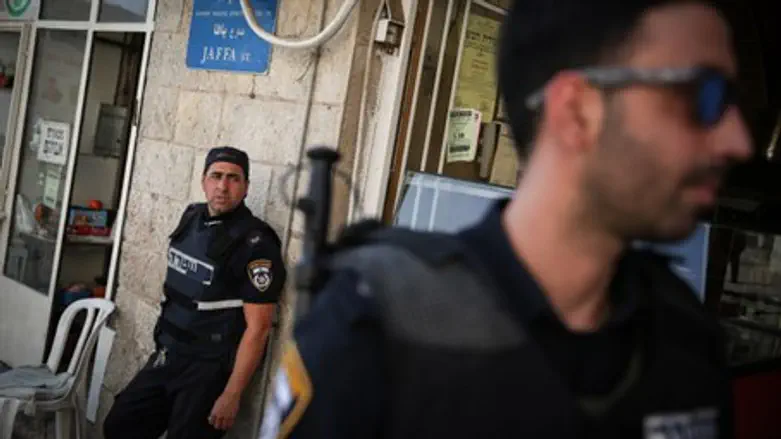 Illustrative: Israel Police guard city center in Jerusalem
Hadas Parush/Flash90
The State of Israel submitted to the High Court for Justice Tuesday responses to nine petitions filed against the confiscation and demolition orders for the homes of six terrorists who killed Rabbi Eitam and Naama Henkin, Malachi Rosenfeld and Danny Gonen.
The State requested for interim orders to be postponed, in the absence of grounds for the court to intervene. 
Since the beginning of 2013, it said, there is a continuing trend of worsening security situation and the steady increase in terrorist activity.
This is reflected in an increase in the number of terrorist attacks and the number of Israeli casualties as a result of terrorism, with a steady rise in terror activity since March 2014. 
In 2013 there were approximately 1,414 attacks; in 2014 there were about 1,650 terrorist attacks; in 2015 this trend continued, with 1,703 attacks from January until October 18. Of the victims, 35 have been killed - up from zero in 2012. 
Of the 1,703 attacks in 2015, a staggering 778 attacks have been launched against Israelis since Rosh Hashana (the Jewish New Year) last month - which killed 11 civilians and injured about a hundred civilians and soldiers.
"The above data indicates a significant change in circumstances and the escalating scope, intensity and level of murderous terrorism, that require knowing that political and security officials are taking measures to deter potential terrorists from carrying out attacks in general, and such as those that recently circulated, in particular," the report said.
The professional assessment of security officials - also shared by the Prime Minister, Defense Minister, and IDF Chief of Staff - is essential now that the maximum deterrence from committing further attacks, it added - including the High Court issuing a ruling on the demolitions as soon as possible. 
The High Court decision to postpone the demolition of seven terrorists' homes evoked harsh reactions from several politicians, as well as from the terror victims' families.