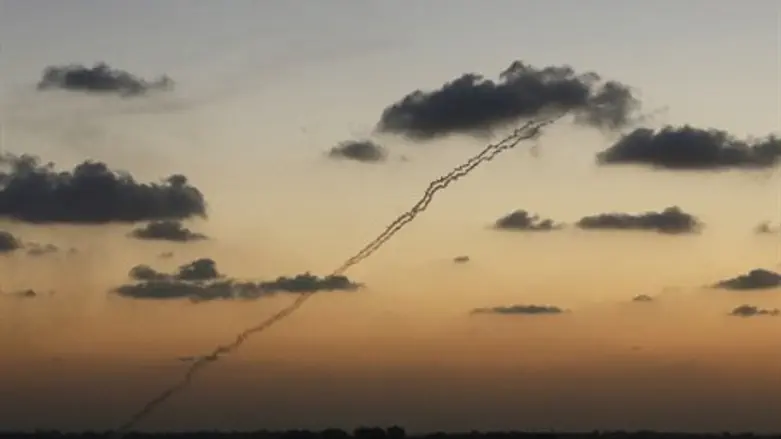 Rocket fire from Gaza
Flash 90
'Code red' rocket alert sirens sounded near the Gaza border and in the Sdot Hanegev and Sha'ar Hanegev regions just after 7:05 pm Monday night. 
At least one rocket struck an open field in the Sha'ar Hanegev region.
No injuries or damage were reported. 
A Salafist organization, the Sheikh Omar Hadid Brigades - which is affiliated with Islamic State (ISIS) -  claimed responsibility for the rocket fire. 
MK Haim Yellin (Yesh Atid) once again criticized Prime Minister Binyamin Netanyahu over the rocket fire, as he has done in the past following similar incidents. 
"The shooting at the State of Israel from the Gaza Strip did not stop for a moment and for the Israeli prime minister, the situation is normal and routine and can last," Yellin fumed. 
"[Former Prime Minister Yitzhak] Rabin knew how to break legs and arms, but he knew also how to reach out to make a political settlement," Yellin, who has long been pro-peace talks, continued.
He further accused Netanyahu of "abandoning Israel on the front lines," including on security issues in general, Arab terror, rocket fire from Gaza, and Jerusalem-related issues.
"A leader must lead, act with courage and strive to make decisions even if they are difficult."