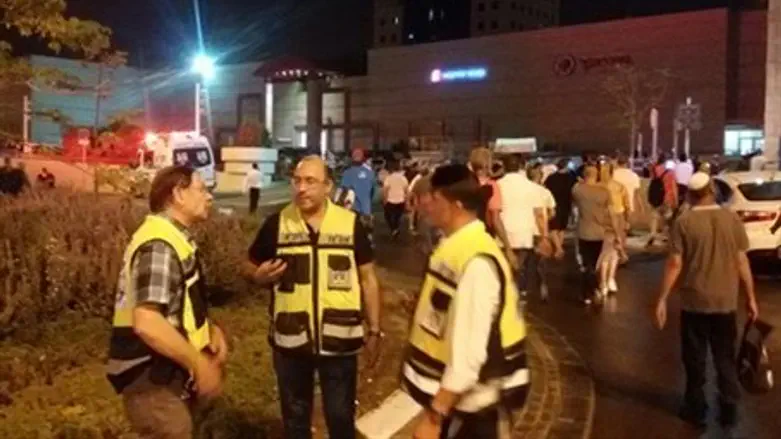 Scene of Be'er Sheva attack
ZAKA
The Southern District Court on Monday issued an indictment to the Be'er Sheva Magistrate's Court against 20-year-old Omer Al-Okabi, the brother of the terrorist Muhaned Al-Okabi who conducted a lethal attack in the southern city's Central Station last Sunday.
Al-Okabi, a Bedouin Arab citizen of Israel, murdered 19-year-old IDF soldier Omri Levy and wounded nine others in the attack before being killed. An Eritrean illegal immigrant was also killed by a Bedouin security guard, after being mistaken for an accomplice in the attack.
The terrorist's brother is accused of committing weapons offenses and not preventing a crime.
According to the facts presented in the indictment, Al-Okabi went into the room where he lived with his terrorist brother and saw him holding a handgun, heard him say he obtained it, and knew that Muhaned was holding the illegal weapon in their home.
Al-Okabi likewise knew his brother had acquired a knife, and just weeks before the attack saw him watching various TV channels, including Palestinian Arab TV channels such as Hamas-controlled Al-Aqsa and Palestine which regularly incite terrorism against Jews.
The brother heard Muhaned say they should liberate Al-Aqsa Mosque, located on the Temple Mount, and various other statements directly calling for violence against Jews.
Despite knowing that Muhaned was in possession of the illegal handgun later used in the attack and that he would likely conduct an attack, the brother did not take reasonable action to prevent his possession of the gun, according to the indictment.
Al-Okabi had long been in contact with the Hamas terrorist organization prior to the attack, and apparently received help from the group in planning the attack.