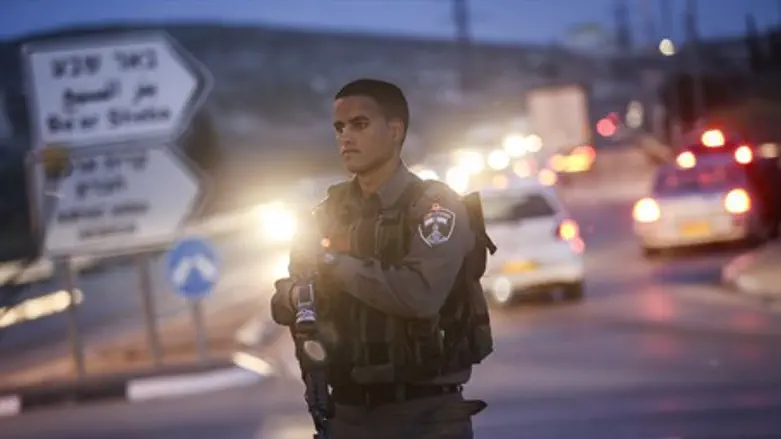 Border Police officer outside Kiryat Arba (file)
Nati Shohat/Flash 90
An Arab terrorist on Monday morning conducted a stabbing attack near Kiryat Arba, located adjacent to Hevron in Judea.
The terrorist has been shot dead, and his 19-year-old victim was seriously wounded after being stabbed in the neck.
The victim was evacuated by Magen David Adom (MDA) medics to Shaare Tzedek Hospital in Jerusalem for treatment. He was admitted in a serious and unstable condition, on artificial respiration and anesthetized.
It was later cleared for publication that the victim is an IDF soldier.
Monday morning's stabbing took place at the junction outside the Arab village of Bayt Einun, located just north of Kiryat Arba.
זירת פיגוע הדקירה בבית ענון
The city has been a flashpoint in the recent wave of Arab terrorism, with several stabbings recorded in Kiryat Arba over the course of the month.
Just earlier on Monday morning Arab rioters threw rocks at the road connecting Kiryat Arba with Hevron's Cave of Machpelah, where the Jewish patriarchs and matriarchs other than Rachel are buried.
IDF forces snapped into action, blocking the rioters from reaching the road.
Monday morning's attack adds to an ever growing list of stabbings and shootings taking place this month. On Sunday night another stabbing occurred at Ariel Junction in Samaria; the victim was seriously wounded, and the terrorist was apprehended after several hours of searching.