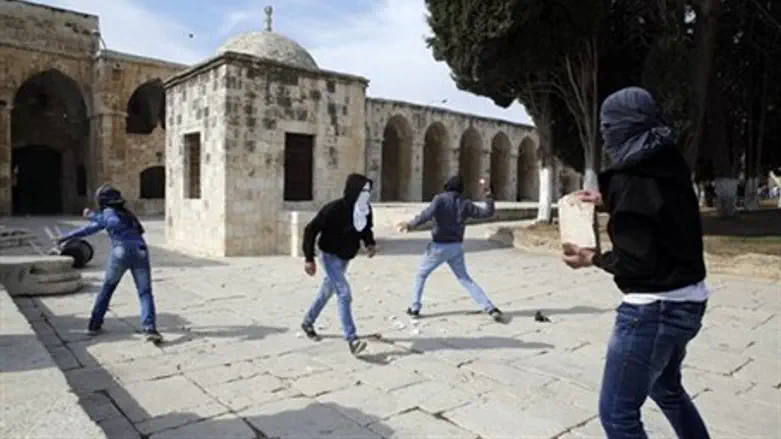 Muslims on Temple Mount
Sliman Hader/Flash 90
The "Mourabitoun" and "Mourabitat" organizations, which were outlawed last month for threatening and screaming – and worse – at Jewish visitors to the Temple Mount, have nevertheless returned to the holy place in force.
Defense Minister Moshe Yaalon, who outlawed the groups six weeks ago, at the recommendation of the Shabak and the Israel Police, said at the time that the groups' activities were a main factor in creating the tension and violence on the Temple Mount in particular, and in Jerusalem in general. In fact, it is their activities that arguably led to the unrest at the holy site that is universally blamed for the current wave of Palestinian Arab terrorism against Israelis.
The organizations feature threatening and dangerous activity – mainly by women – against Jewish visitors and worshippers at the site, which leads to violence and is liable to injure human life. Police were forced on more than one occasion to use riot control measures at Judaism's holiest site against Mourabitat-inspired Muslim mobs.
Israel's Channel One news broadcast footage of some 15 women screaming 'Allahu Akbar!" at the latest group of Jewish visitors. Among the latter was Yehuda Etzion, a long-time Jewish advocate of a Jewish Temple Mount. The Mount is the site of the two Holy Temples, which were destroyed 2,000 and 2,500 years ago, respectively, after serving as the center of Jewish life for a total of some 850 years.
Several policemen are seen in the video, making no move whatsoever to stop the illegal screaming.
The now illegal organizations "strive to undermine Israeli sovereignty on the Temple Mount," a statement issued by the Defense Minister's office charged, as well as "change the existing arrangements at the site, and infringe on freedom of worship. They are linked to – and frequently guided by – hostile Islamic organizations."

The outlawing of the groups means that anyone who participates in, organizes, or finances their activity is committing a criminal act and is subject to trial.

Defense Minister Yaalon said at the time, "The State of Israel allows freedom of worship to all its citizens, tourists and visitors... However, we have no intention of allowing violent and inciteful elements to harm public order and threaten the safety of worshippers, especially at a sensitive and holy site such as the Temple Mount."