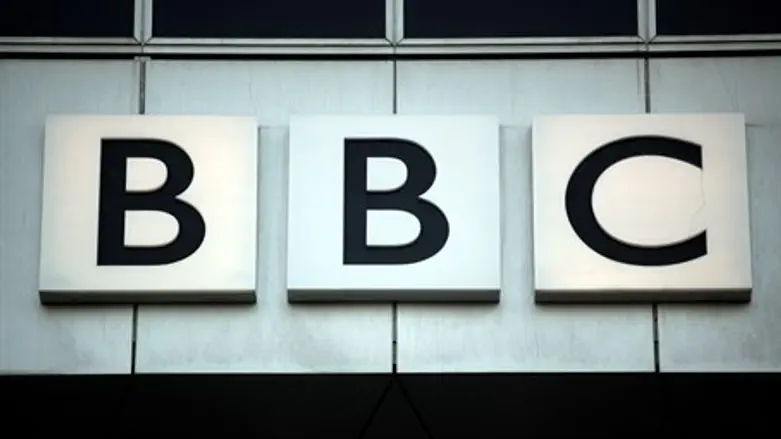 BBC headquarters
Thinkstock
The former chairman of the BBC has attacked the corporation over its reporting of the recent spate of Arab terrorist attacks in Israel.
Lord Michael Grade, a member of the House of Lords for the Conservative Party, claimed the BBC had failed to show "impartiality," and focused his fierce criticism in particular on a recent report by BBC correspondent Orla Guerin, which he said promoted an "equivalence" between Palestinian terrorists and their victims.
Watch: BBC report sympathizes with Palestinian terrorism?
"I must object to the fact the report appeared to promote equivalence between Israeli victims of terrorism and Palestinians who have been killed by Israeli security forces in the act of carrying out terror attacks," Lord Grade, who chaired the BBC between 2004-2006, said in his letter.
"An understandably emotional interview is conducted with the father of a dead Palestinian youth who had been killed committing a fatal terror attack. However, the report failed to show the emotional distress caused to Israelis by any of these recent attacks. This is inexcusable," he added. 
"Additionally, it was improper of the correspondent to claim that 'there's no sign of involvement by militant groups,' before immediately showing footage of Palestinian Islamic Jihad (PIJ) banners at the home of a 19 year-old terrorist who carried out a deadly knife attack at Lions Gate in Jerusalem on 3rd October.
"PIJ is a well-known Palestinian terror organisation and it has since claimed responsibility for the attack and praised by Hamas, another internationally proscribed terror organisation. This directly misleads viewers."
Lord Grade also berated the BBC for failing to document the rampant incitement spread by the Palestinian Authority, among others, which he noted has "played an undeniable part in stoking tension."
Omitting such basic information amounted to the BBC failing "to fulfill its obligation to viewers," he said.
He also accused the corporation of cherry-picking and editing footage to give a picture wholly sympathetic to the Palestinians. Lord Grade specifically highlighted a clip from clashes between Arab rioters in Hevron in Guerin's report, showing an elderly man confronting Israeli soldiers as they fire teargas.
"The carefully selected footage failed to show the stone-throwing protestors prompting the presence and action of Israeli security forces," Grade noted. "While this footage is entirely worthy of broadcast, I strongly feel that viewers lacked visual and oral description of the wider context thereby limiting their awareness and understanding of what is an undoubtedly complex issue."
"Regrettably, this is not the first time the standard of reporting and impartiality has been unsatisfactory in recent weeks," he continued. "On Saturday 3rd October, I was disappointed to see the BBC News website publish a misleading and counter-factual headline: 'Palestinian shot dead after Jerusalem attacks kills two'.
"I note reports that this headline underwent four revisions following public criticism," he said.
The headline in question drew an angry response from the Israeli Government Press Office, forcing the BBC to admit it was wrong to word it in such a way.
The corporation has yet to apologize, however, and the GPO has not responded to repeated requests by Arutz Sheva to clarify whether further action will be taken.