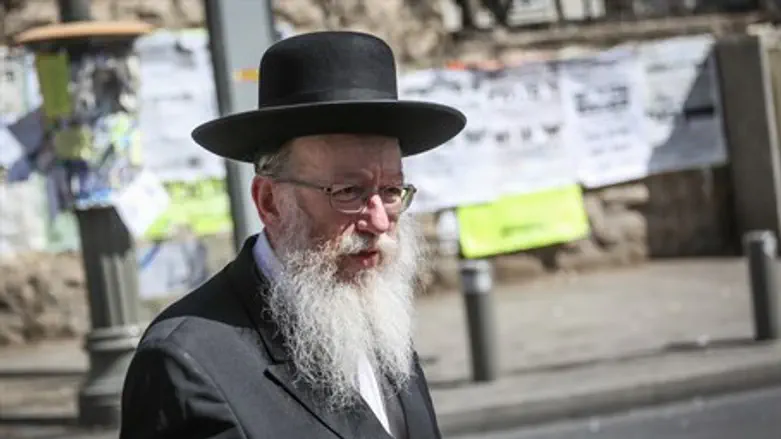 Ya'akov Litzman
Hadas Porush/Flash 90
Health Minister Ya'akov Litzman (United Torah Judaism) ordered an investigation on Friday to check suspicions that Arab medical staff at a clinic in Jerusalem's Old City did not go out to help Jewish victims, who were stabbed right next to the clinic.
The incident in question is the brutal murder of Aharon Banita Bennett (21) and Rabbi Nehemia Lavi (41), which took place on Hagai Street on October 3. Bennett's wife was seriously wounded and his two-year-old son was lightly wounded in the Arab terrorist attack.
While Bennett's wife's condition has since improved, it is likely that immediate medical treatment could have lessened the seriousness of her wounds and possibly saved the life of her husband and of Rabbi Lavi, who was stabbed as he came to try and save the young couple and their son.
The Arab-run health clinic located adjacent to the stabbing was open at the time of the attack and medical staff was present inside, reports Channel 2. 
However, the Arab medical team did not go out to provide treatment to the wounded, despite their occupational obligations to treat the wounded, just as Magen David Adom (MDA) medics treat Arab terrorists at the scenes of attacks.
The Health Ministry is currently checking whether the medical staff could have helped the wounded and chose not to.
Minister Litzman ordered to speed up the process and mete out justice against those responsible if it becomes clear that they indeed ignored wounded Jewish victims in the lethal attack.
The suspected response of Arab medical staff falls in line with the response of Arab residents, who mocked Bennett's wounded wife as she tried to escape the attacker and seek help. Prime Minister Binyamin Netanyahu has asked to shut down the stores belonging to the Arabs who laughed at the terror victim and struck her.