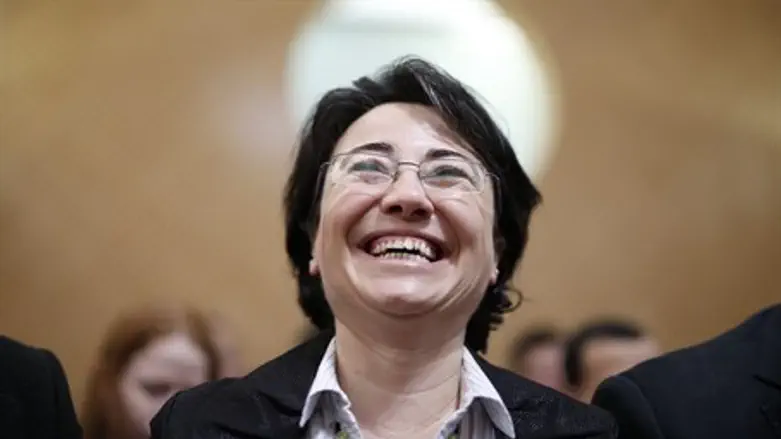 Hanin Zoabi
David Vaaknin/POOL/Flash 90
Radical Arab MK Hanin Zoabi of the Joint List accused Prime Minister Binyamin Netanyahu of giving orders to "execute" Arab terrorists conducting attacks, who she claimed were actually innocent despite irrefutable evidence to the contrary.
The MK, who has vocally supported Hamas in the past, said in a statement Wednesday night that "the occupation regime reasons that by killing Palestinians on the streets they will succeed in placing fear upon them and preventing the breakout of the revolution against the occupier."
Zoabi's claim echoes false claims by the Palestinian Authority (PA), which alleged that an "innocent" Arab 13-year-old who carried out the Pisgat Ze'ev double stabbing earlier this week was "executed," when he in fact is currently receiving medical treatment in Israel. Netanyahu slammed this "new big lie" in a press conference on Thursday.
In a not-so-subtle call for more terror attacks, Zoabi demanded a response to the escalation of "crimes by the occupation against Palestinians."
Regarding the rising wave of Arab terror attacks, the MK called them "independent acts."
Zoabi said that now, instead of these lone attacks, wide-ranging popular actions are needed, and that only a "popular struggle" including thousands of Arabs can create a "true popular intifada" that can make a strategic change in the reality on the ground.
In calling for an intifada Zoabi employed the term used to reference terror wars, as witnessed in the late 1980s and early 2000s.
The extremist MK just last Friday told Israeli TV "I don't want quiet in the shadow of the occupation, I want a struggle," in an open call for terrorism.
Zoabi was let off the hook after taking part in the 2010 Mavi Marmara flotilla that included a terrorist attack on IDF soldiers, and she remains in the Knesset despite efforts to have her disqualified for her overt support of Hamas.