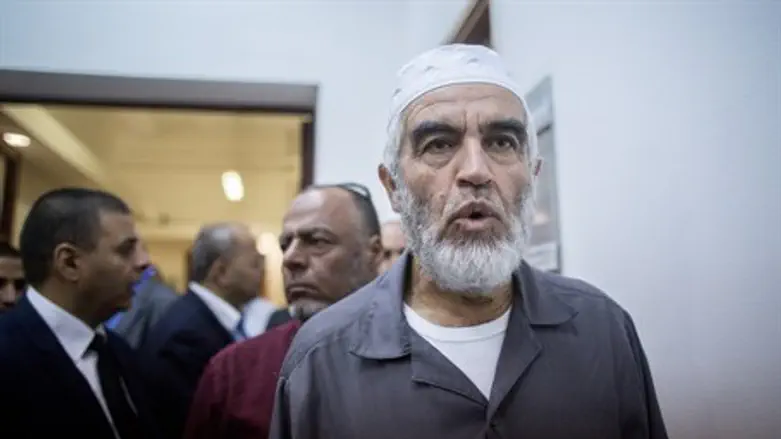 Sheikh Raed Salah in court
Yonatan Sindel/Flash 90
Islamic Movement in Israel leader Sheikh Raed Salah may face jail time once again, after the Jerusalem District Court convened to examine the appeal of Salah's 11-month prison sentence, originally imposed on him in 2007. 
Salah's trial follows a vow from Prime Minister Binyamin Netanyahu to blacklist the Islamic Movement, which has been linked to numerous cases of incitement to violence and outright support for terror from within Israel's borders. 
Joint List chairman Ayman Odeh and MK Hanin Zoabi joined Salah for support in the courtroom. 
"Even if I go to jail, I will continue protecting Al-Aqsa [The Temple Mount - ed.]," Salah defiantly declared outside the courtroom. 
In 2007, during a sermon, Salah declared that "the finest moments are when we meet God as martyrs for Al-Aqsa" and that "we will purify the blood of innocent people [...] and remove the soul of Israeli occupation soldiers who are occupying the Al-Aqsa Mosque." Following his speech, a Palestinian Arab mob rioted and threw rocks at security forces in the Old City, injuring three Border Police officers. 
Salah was acquitted of incitement and racism in his indictment; now, the Court re-examined the possibility of overturning that acquittal and levying upon him the original 11-month prison sentence he would have faced in the event of a conviction. 
State Attorney Uri Korb noted Salah's repeated use of the word "blood," and his allusions to the medieval European blood-libels during the speech.
"The mob was incited to hear the ideas of the intifada, and it entered into their hearts," Korb said.
Salah's lawyer, Attorney Avigdor Friedman, argued that Salah should be subject to the same laws of freedom of speech as unspecified "right-wing extremists" who he said "praise the actions of Baruch Goldstein," and he claimed face lighter sentences. 
The Islamic Movement is actually banned in several Muslim states - in part, due to links to the Muslim Brotherhood - and has been repeatedly involved in several incitement-laced activities, including violent "Nakba Day" protests, calls for an "intifada", and rioting on the Temple Mount. 
Salah himself has labeled Israeli leaders "terrorists" and "enemies of Allah" in a speech to Muslims in Be'er Sheva, and was also jailed for five months in 2010 for spitting at an Israeli police officer. 
He was convicted by the Jerusalem Magistrates Court in November 2013 with inciting to violence, but acquitted on inciting to racism. In 2014, he was given eight months in jail and an additional eight months on condition.
Salah also spent a brief period in jail for transferring money to Hamas, and famously "reminisced" fondly over the drawing of swastikas as a child in a 2009 interview with a London-based Arabic-language TV station.