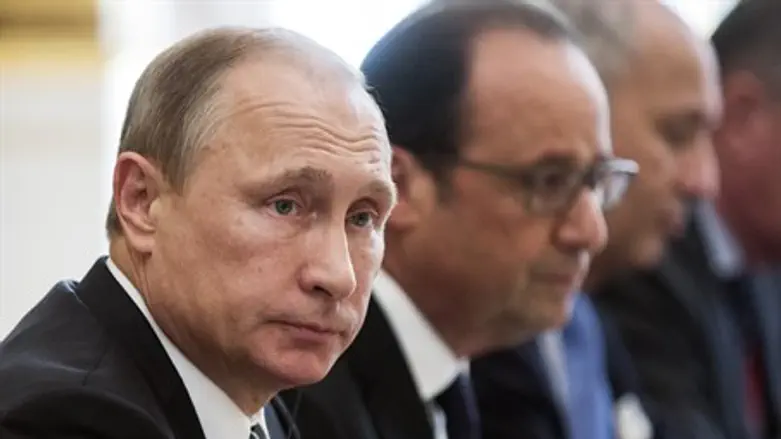 Strongman Putin seen as more natural ally than dithering Obama
Reuters
President Vladimir Putin on Tuesday slammed Washington for refusing to share intelligence with Russia on Syria, accusing it of muddled thinking.
Late last month Moscow launched a bombing campaign in Syria, saying it needed to target Islamic State jihadists before they cross into Russia, which has a large Muslim population.
But the United States and its allies blasted Russia's intervention in the conflict, saying Moscow was also targeting Western-backed moderate rebels and sought to prop up the regime of Bashar al-Assad.
"Now, we often hear that our pilots are striking the wrong targets, not ISIS," Putin said at an investment forum in Moscow explaining that Russia had asked Washington to provide a list of targets.
But Washington declined.
"'No, we are not ready for this' was the answer," Putin quoted them as saying.
"Then we thought again and asked another question: then tell us where we should not strike. No answer too," he said, adding: "That is not a joke. I did not make this up."
"How is it possible to work together?" he asked.
"I think some of our partners simply have mush for brains, they do not have a clear understanding of what really happens in the country and what goals they are seeking to achieve."
He also took issue with a decision by a US-led coalition to parachute in ammunition to rebels in Syria, saying the weapons could end up in the wrong hands.
In televised comments over the weekend, Putin acknowledged that Russia wanted to buttress the Syrian regime, saying Moscow's task was to "stabilize the legitimate authorities and create conditions for the search of political compromise."
"We are not striving for some sort of leadership on Syria," he said at Tuesday's forum.
AFP contributed to this report.