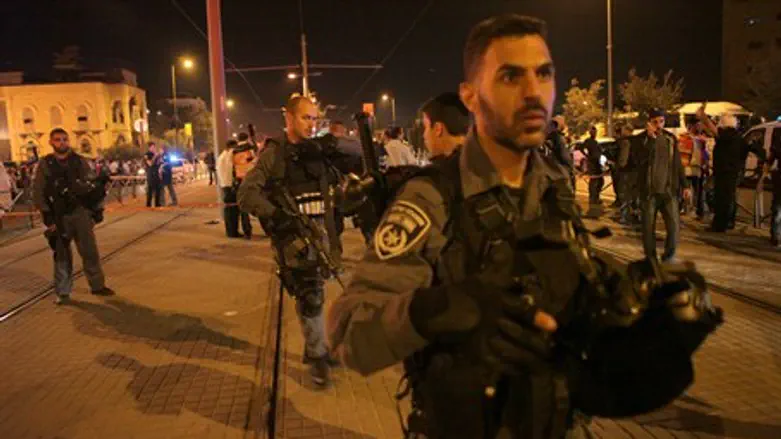 Police at the site of Jerusalem stabbing attack
Flash 90
The Palestinian Bar Association decided on Saturday that it would give an honorary lawyer's degree to Mohannad Halabi, the terrorist who last week murdered Rabbi Nehemia Lavi, 41, and Aharon Banita Bennett, 21, in a terrorist attack in Jerusalem.
The Palestinian Bar Association described Halabi as a "heroic martyr" in announcing its decision to give him an honorary degree.
The organization also announced it would name its swearing in ceremony for lawyers after the terrorist.
A delegation from the Association visited Halabi's family this week and expressed its condolences for the death of their son, who was a student at the Faculty of Law at Al-Quds University.
The move is the latest example of incitement against Israel by Palestinian officials and institutions.
For example, a video released earlier this week in Gaza shows an Arab wearing a black-and-white kefiyeh watching Arab riots on his cell phone. Two Arab actors dressed as crude caricatures of religious Jews are seen pushing Arab children and passing him by.
The teen then draws a knife and stabs the two to death.
A recent video released by the Israeli Foreign Ministry has revealed how such incitement goes right to the top of the PA.