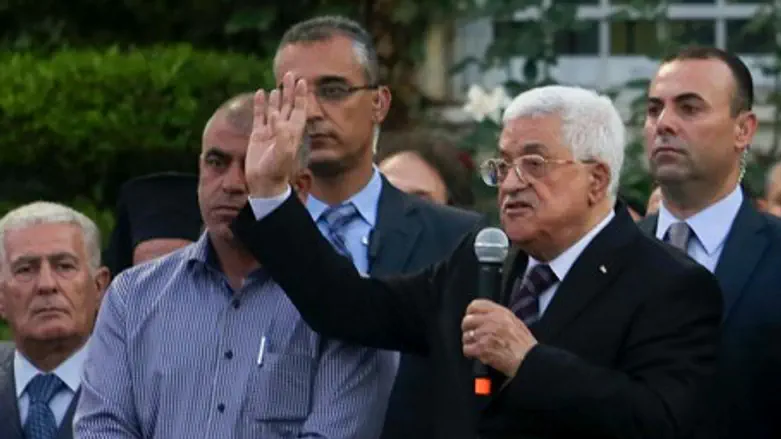 Mahmoud Abbas
Flash 90
In the wake of the murder of Rabbi Eitam and Naama Henkin last Thursday, Palestinian Authority (PA) Chairman Mahmoud Abbas's Fatah faction and the Palestine Liberation Organization (PLO) have escalated their justification of terror and calls for more attacks.
The young couple was shot to death in front of their four children as they drove outside Itamar in Samaria.
PLO Executive Committee member Mahmoud Ismail appeared on official PA TV this Tuesday, where he called the murder a "national duty," and left open the question as to whether Hamas or Fatah conducted it. His comments were translated by Palestinian Media Watch (PMW).
The host of the official PA TV broadcast asked Ismail whether the murderers of the Henkins hailed from the Al-Aqsa Martyrs' Brigades - the "armed wing" of Abbas's Fatah - or rather from Hamas.
"There is no need to return to the argument and dispute about who carried out the operation...there is no need to announce it and boast of having done it. One fulfills his national duty voluntarily, as best as one can," said Ismail.
Aside from calling the murder a "national duty," the PLO official's statement is significant in that he apparently intended to keep open the speculation that Fatah conducted the attack.
The IDF has nabbed the Hamas terror cell that conducted the murder, but prior to that the Martyr Abdul-Qader al-Husseini Brigades, an "armed wing" of Fatah, claimed responsibility for the murder, in a claim later reiterated by a senior Fatah official.
The Martyr Abdul-Qader al-Husseini Brigades went on to post photos of its members passing out candy to celebrate the attack.
Ironically, Abbas said the PA will not honor the 1994 Oslo Accords at the UN just last week - the Oslo Accords created the PA, and removed the international status as a terrorist organization from both Fatah and the PLO.
In an apparent sign of how the distinctions between Hamas and Fatah are being negated despite their long-standing violent rivalry at the prospect of a new terror wave, Abbas has invited Hamas and Islamic Jihad to join the PLO and achieve "Palestinian independence."
Aside from Ismail, Fatah Central Committee Member Jamal Muhaisen was quoted by the official PA daily Al-Hayat Al-Jadida on Wednesday making similar statements.
"The settlers' presence is illegal, and therefore every measure taken against them is legitimate and legal," he said, in a justification of the attacks.
Despite Abbas's protestations that he doesn't seek a "military escalation" with Israel, Muhaisen added that "it is important that the popular uprising increases," in a direct call for more terror attacks.