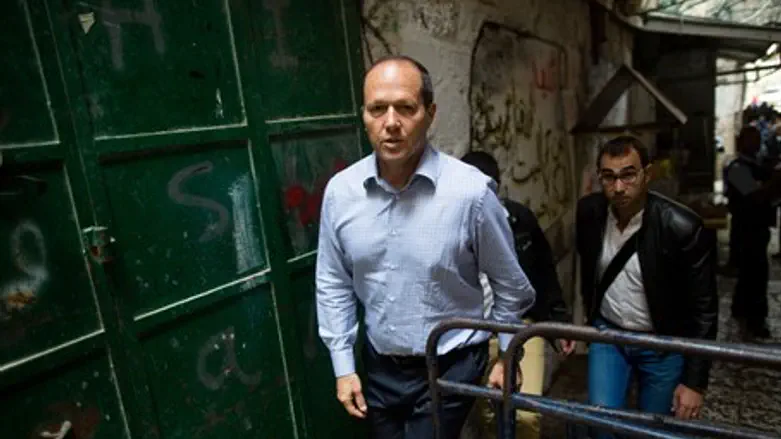 Barkat visits site of attack
Yonatan Sindel / Flash 90
Israel Police are on guard Thursday as a wave of Arab violence continues to sweep across Israel, resulting on Wednesday in five serious terrorist attacks. 
Although such an announcement has not been made publicly or explicitly, Walla! News reports, police and local authorities have unofficially given instructions to civilians to carry personal weapons. 
Jerusalem Mayor Nir Barkat has however issued an official statement urging residents of the capital to carry licensed firearms to increase their personal security. 
"The mayor encourages licensed gun owners to carry their weapons to increase security. He himself serves as a personal example of this," the Jerusalem municipality said. 
According to the municipality, Barkat was carrying his licensed Glock pistol on a recent tour of Beit Hanina with police to improve the security of Jerusalem's light rail as well as last February when he thwarted a terrorist attack against a haredi man. 
"Given the current escalation [of violence] in the security situation, those with a licensed firearm who know what to do with it must go out with [their weapon] - it's an imperative," Barkat told Army Radio on Thursday. "In a way, it's like military reserve duty."
Ashdod police commander Noam Shekel also advocated for civilians with gun licenses to carry weapons with them in light of the serious security situation in Israel. 
One senior police official noted that civilians carrying personal weapons was helpful against terror, particularly against the lone-wolf attacks which have been seen in recent weeks.