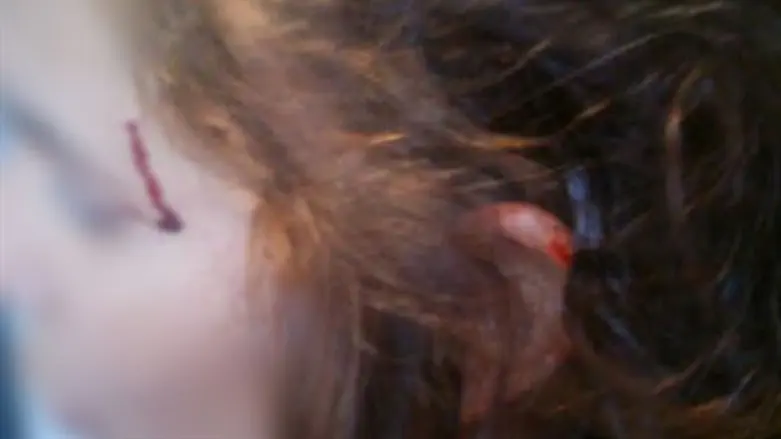 Ribi Lev-Ohayon
Gush Etzion Council Spokesperson
Ribi Lev-Ohayon, 38, was lightly wounded by an Arab mob in the Gush Etzion region of Judea on Wednesday morning, in an attack in which the terrorists tried to drag her from her car and beat her to death, before she managed to escape.
Speaking to the press at Shaare Tzedek Hospital in Jerusalem, Lev-Ohayon relived the harrowing moments as the Arab mob from Beit Sahur just outside Tekoa rushed her car, breaking the windshield and trying to drag her out while kicking and hitting her.
"I went out like every day from my home in Tekoa towards Jerusalem," said Lev-Ohayon, who works as an attorney in the capital. "I reached the area of Beit Sahur 50 meters from a Border Patrol checkpoint, and then I saw a line of masked people."
"I told myself that my time had come. I did a U-turn to flee from them, and then ten of them jumped on the car and threw rocks. One of them opened my door and I thought that they were going to lynch me. I was saved by a miracle."
Lev-Ohayon recalled that the Arab assailant who wrenched the door open "kicked me in my left arm, my legs and my knees. After he backed down I managed to lock the doors and decided to flee for my life. I hit the gas and returned to Tekoa. I was hysterical."
"I felt the death before my eyes. My head was bleeding. They had murder in their eyes and only one of them shouted 'khalas' (Arabic for "enough" - ed.). I fled from there and reached the checkpoint in Tekoa. A Border Patrol jeep passed by me, I honked the horn with all my strength but they didn't notice and I continued to drive towards Tekoa. I received first aid at the gate of Tekoa."
Noting how the attack has effectively changed her life, she posed: "it's a difficult feeling. My home is in Tekoa and my work is in Jerusalem. How am I supposed to go to Jerusalem? The situation is intolerable. I was saved from a lynch by a miracle."
"In the moments when they hit me I told myself: that's it, I'm dead. My daughters will be left without a mother.' I have three small daughters. I felt that I had to survive for my family. My head was cut open from the assault and I have a wound on my hand, swelling and hemorrhaging and also swelling in my jaw. I got out of that assault by a miracle."
"They attacked me from all directions. From now on I'll only drive with reinforced windows and will remember to always lock all the doors. I won't drive with a car that isn't reinforced. I'm dying of fear over returning home from the hospital. If it happened under the nose of the Border Patrol, it could happen to me this evening as well. This is really mortal danger."
Josh Hasten, a resident of Elazar in the Gush Etzion area of Judea and freelance journalist, was just a few cars behind Lev-Ohayon and told Arutz Sheva about how a mob of Arabs rushed his car as well, noting that if he hadn't fired a warning shot in the air they would have murdered him with cinder blocks and rocks.
Commenting on the "operationally clueless" way soldiers refused to respond or act, Hasten accused the government of not giving them the freedom to take action and protect Israeli civilians.
Lev-Ohayon's comments in the hospital can be seen below, in Hebrew.
פצועת פיגוע האבנים משחזרת