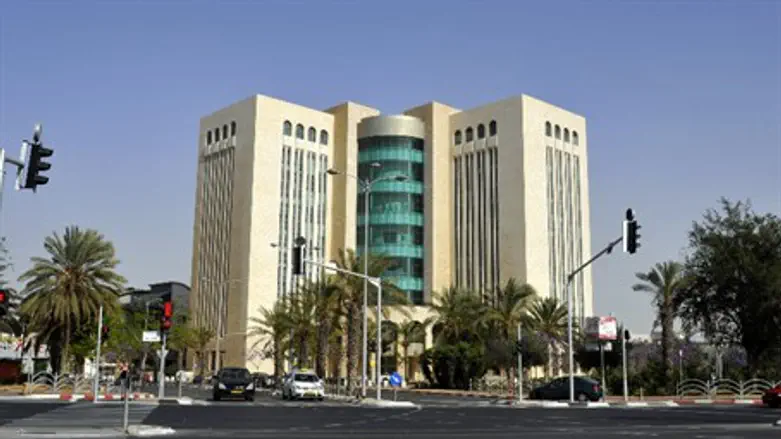 Be'er Sheva
Flash 90
The largest agreement of its kind was signed on Tuesday in Be'er Sheva, with the participation of Prime Minister Binyamin Netanyahu, to build, develop and market no fewer than 20,000 housing units by 2019.
The NIS 1.5 billion contract is the largest "roof agreement" ever signed in Israel with a local authority. That is, never have so many residential units been planned in one deal for any town or city in Israel.
Also at the signing ceremony were Finance Minister Moshe Kahlon, Construction Minister Yoav Galant and Be'er Sheva Mayor Reuven Danilowitz. The agreement is expected to strengthen metropolitan Be'er Sheva as a cyber capital, and also to meet the housing and other needs resulting from the IDF's move to the Negev.

Some NIS 1.5 billion will be invested in infrastructures and public structures in the city, including full financing for the upgrade of Be'er Sheva's main thoroughfare, Rager Boulevard. Money will also be invested in financing a stadium and rehabilitating the Old City.

A roof agreement is a "package deal" that a city or regional council receives from the government to facilitate the construction of schools, daycare centers, public institutions and infrastructures that will, in turn, aid in the marketing of residential units, while lifting bureaucratic impediments. The state provides the funding for developing new neighborhoods, while the municipality takes upon itself the development itself.
Be'er Sheva, which was one Israel's fourth-largest city, has dropped to 7th place, with some 200,000 residents. Ahead of it are Jerusalem, Tel Aviv, and Haifa, as well as Rishon LeTzion (236,000), Ashdod (215,000), and Petach Tikvah (214,000 residents). The addition of 20,000 new homes is expected to increase Be'er Sheva's population by 50% in just four years, jacking it up to 3rd place, ahead of Haifa's slightly-declining population of 275,000.
"This is a great day for Be'er Sheva, the Negev and the State of Israel," Netanyahu said during the signing. "My vision is simple: Be'er Sheva will have 500,000 people within 12 years. Today we are taking a giant step to fulfill this vision because we are signing the largest roof agreement in the history of the State. We are going to market 20,000 residential units - an addition of approximately 100,000 people by 2019."
Netanyahu also noted that Be'er Sheva is "becoming a global cyber capital. The biggest companies in the world in this field are coming to Be'er Sheva from overseas. I have seen something else: companies in Tel Aviv and Herzliya are opening offices in Be'er Sheva. This should tell you something... The IDF is moving south, the State of Israel is moving south, to Be'er Sheva and the Negev."