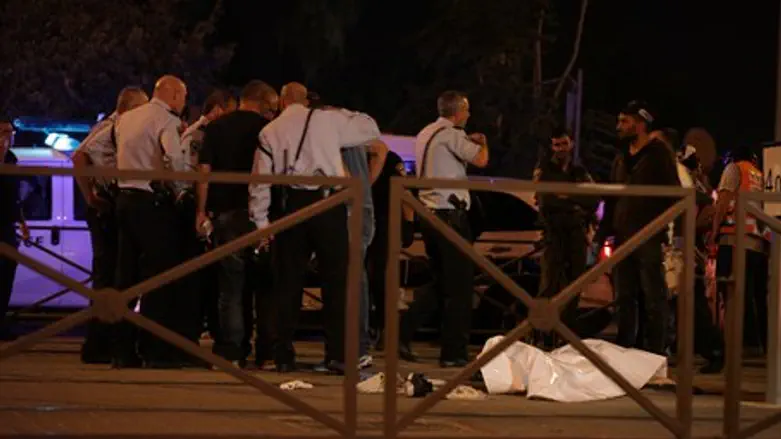 Police stand by body of terrorist who carried out stabbing attack
Flash 90
A newborn Palestinian Arab baby has been named in honor of the Arab terrorist who murdered two Jews and wounded three others in a stabbing attack in Jerusalem's Old City on Saturday night. 
Nineteen-year-old Islamic Jihad terrorist Mohammed Shafik Halabi attacked a young Jewish family in the Old City, repeatedly stabbing the parents and their infant child before attacking another civilian, snatching his weapon and firing on police and tourists in a frenzied attack.
According to Palestinian Media Watch (PMW), the baby bearing Halabi's name was born in Gaza just hours after the attack in which Aharon Banita Bennett and Rabbi Nehemiah Lavi were killed. 
The Palestinian Authority's official news agency Wafa was quick to publish a festive birth announcement, PMW also noted. 
Halabi was lauded in Wafa's report as a "hero of our people" who had been "assassinated by the army of the occupation."
Also according to Wafa, "while still in the hospital, the mother of the baby called the mother of Martyr Halabi...during the phone conversation, the two mothers cried from joy."
Arab support for the brutal murder has also flourished on social media and on the street, including in the form of a Facebook page set up in Halabi's memory just a few hours after the attack.
The page features pictures of Halabi along with various slogans in support of his heinous terrorist crime, many of which have received hundreds of likes.