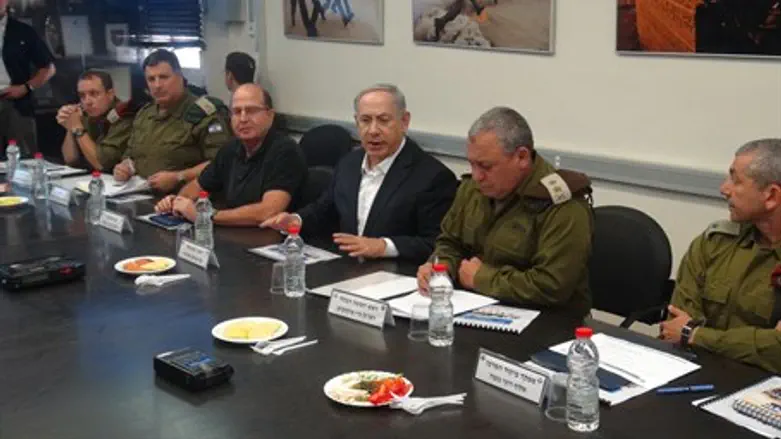 Netanyahu (C) with defense officials
Yoni Kempinski
Prime Minister Binyamin Netanyahu said Tuesday that he wants Arab shopkeepers in Jerusalem's Old City who ignored and taunted a Jewish woman who had been stabbed to stand trial. He also wants their shops to be closed down.
According to Maariv, Netanyahu said that he has asked "to take steps against those merchants who were on the path where a Jewish woman ran, stabbed and bleeding, and asked for help. I asked that their shops be closed down and that they be put on trial."
Earlier in the day, Netanyahu spoke to the woman, Adele Bennett, at her hospital bedside. "They had murder in their eyes," she recalled. "They were drinking coke meanwhile... laughed in my face... I ran and cried for help... you could see the hatred in their eyes! You could see that everything was planned, they knew how to do it..."
Netanyahu replied: "There's one thing I can tell you - you are a big heroine."
Netanyahu toured Samaria Tuesday along with Defense Minister Moshe Ya'alon (Likud) and IDF Chief of Staff Gadi Eizenkot. They visited the location of the murder of Rabbi Eitam and Naama Henkin.
In situation assessments that Netanyahu chaired, it was decided to set up security cameras and other means of intelligence gathering along all highways in Judea and Samaria. "This is an important component in bringing back security and preventing terror attacks," he said.
Netanyahu said that he has asked his people to use legal means against the northern wing of the Islamic Movement in Israel, including outlawing the radical organization.
He also spoke about the Arab violence and nationalist incitement at the Doha Stadium in Sakhnin Monday, during a game between the Bani Sakhnin and Betar Yerushalayim soccer teams. "I find it unacceptable that people spit on policemen or wave PLO and Hamas flags in the stadium," he stated.