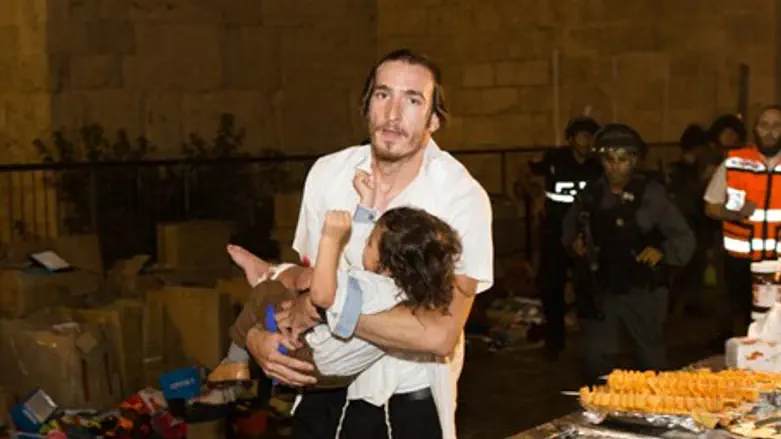 Jerusalem stabbing attack
Yonatan Sindel/Flash 90
On Sunday afternoon Adelle Banita-Bennett, widow of Aharon Banita-Bennett, who herself was seriously injured in the stabbing attack Saturday night in Old City of Jerusalem, woke up from medical coma she had been placed under in order to enable doctors to treat her.
Among the first people she spoke to was Ashkenazic Chief Rabbi David Lau, whom she told in detail about the attack.
The widow told Rabbi Lau that she attempted to escape from the terrorist after the stabbing began.
"I ran for dozens of meters with a knife in my shoulder, bleeding. Arabs in the area who saw this horrible scene clapped and laughed, and told that they hoped for my quick death. I felt I was about to faint," she said. "I tried to hold on to someone who passed by, and they just shook me off and kicked me, and said 'die.'"
Earlier, Rabbi Lau spoke at the funeral of Aharon Banita-Bennett.
"A young man with his wife – whom we pray for – were attached to God, happy in fulfilling His commandments, and their holiday was turned to pain and anguish," he said in his eulogy. "Instead of celebrating, we accompany a young rabbi at his funeral.
"We pray to God, to Whom we are attached, that He provide us with good tidings, with the comfort of Zion and Jerusalem, and for the end of death in the coming of the Messiah," he added.
Rabbi Nehemia Lavi, 41, and Aharon Banita Bennett, 21, were both murdered as a result of Saturday's terrorist attack. Bennett's wife, Adelle Banita, 22, and their two-year-old son were also injured. Later Saturday night, an Arab terrorist attempted to stab a Jewish youth in central Jerusalem.