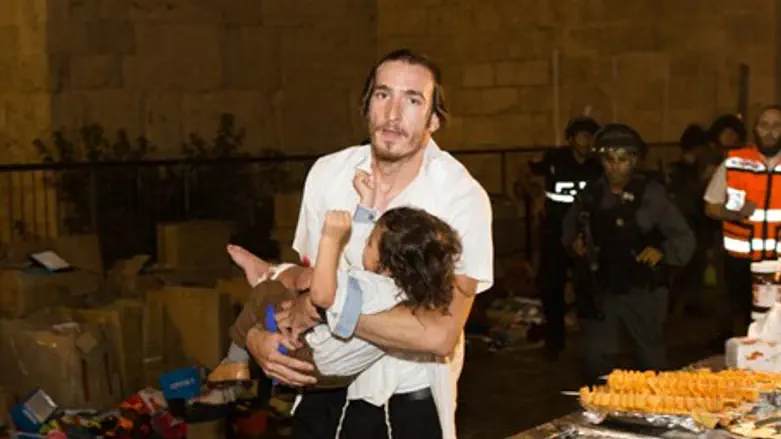 Jerusalem stabbing attack
Yonatan Sindel/Flash 90
The United States on Saturday night condemned the stabbing attack which killed two people and injured two others in Jerusalem's Old City.
Washington "strongly condemns all acts of violence, including the tragic stabbing in the Old City of Jerusalem today," State Department spokesman John Kirby said in a statement quoted by AFP.
"We are very concerned about mounting tensions in the West Bank and Jerusalem, including the Haram al Sharif/Temple Mount, and call on all sides to take affirmative steps to restore calm and avoid escalating the situation," he added.
Rabbi Nehemia Lavi, 41, and Aharon Banita Bennett, 21, were named as the victims of the earlier terrorist attack.
Bennett, along with his wife and two-year-old son, were attacked by the terrorist; his wife was seriously wounded and the child lightly wounded.
Rabbi Lavi, a father of seven, is originally from Beit El in Binyamin north of Jerusalem, but has lived in the Old City for the past 23 years. He is a rabbi at Yeshivat Ateret Kohanim.
According to the rabbi's friends, he went down with his gun to try and save those wounded by the Arab terrorist in the attack, but the terrorist stabbed him and took his weapon.
The Islamic Jihad terrorist group in Gaza took credit for the murder, which was conducted by 19-year-old terrorist Mohannad Shafik Halabi.
The American condemnation came before a second stabbing attack took place in Jerusalem early Sunday morning.
In the second attack, a young Jewish man was stabbed at a gas station near the Damascus Gate.
The man, who was stabbed in his upper body, was treated at the scene by United Hatzalah paramedics, and is listed in moderate-to-serious condition.
The terrorist was reportedly shot by security forces.