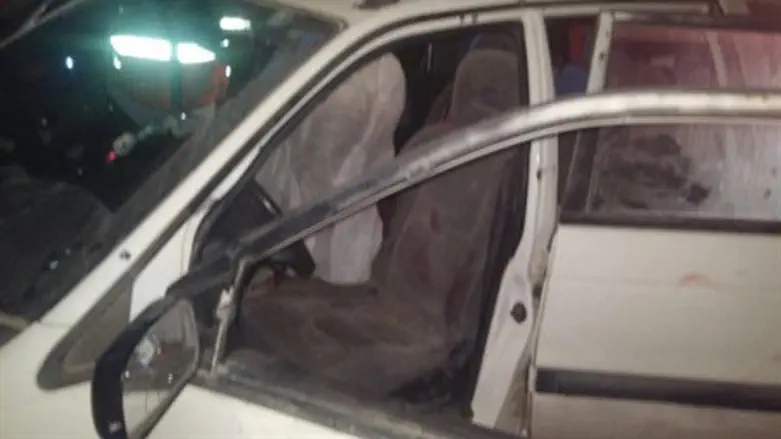 Site of the attack
Arutz Sheva
Off-duty medic Tzvi Goren had been driving along the road from Itamar to Elon Moreh in Samaria on Thursday night when he saw a car flashing its headlights and honking. 
Goren immediately knew something was going on. 
"I was traveling from Itamar to Elon Moreh; my own two children were in the back of the car," he recounted to Walla! News. "Near Beit Furik, I see a car in front of me, flashing its headlights and honking. I understood that there was something odd."
"I pull over and see a man armed with an M-16 and recognize him as a friend of mine," he said. "I asked him what was going on, he said there was a terror attack, there are kids in the back." 
Goren had arrived at the scene mere minutes after Fatah terrorists murdered Rabbi Eitam and Naama Henkin. 
"I looked and saw that the wounded appeared to be in critical condition, so we decided to put the kids in my car for the time being; my friend meanwhile stood guard." 
Goren called security forces and the IDF as he waited for help to arrive. The IDF's Mobile Intensive Care Unit arrived at the scene first, but armed soldiers took far longer to reach the site. 
For the children's safety, Goren took his children and the Henkin children to Itamar; an ambulance met them there. Medical teams examined the children and a resident of Itamar took care of them while they waited for social services to arrive. 
When he arrived, all four children seemed to have understood that something had happened, he said, and the eldest cried bitter tears while saying that someone murdered his parents. 
Matan Hillel, the Henkins' nine-year-old, told Goren his name and their community. Later, when speaking to others, Goren realized that Matan probably saw the terrorist's face during the shooting. All four children were traumatized, he said. 
Goren added that this is not the first time he has arrived at the scene of a terror attack. 
"I have arrived before at other attack scenes, each one is something else," he said. "Of course seeing this is really difficult, especially thinking about this family, left without a mother and a father."