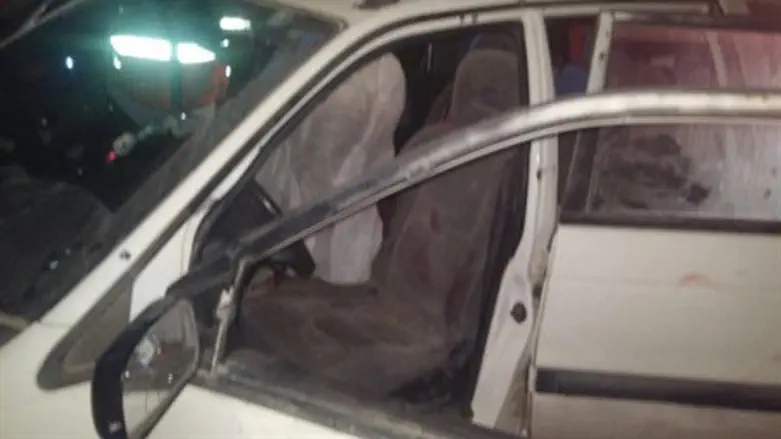 Victims' car peppered with bullets in aftermath of attack
Arutz Sheva
Police are investigating a series of possible "price tag" attacks on Arab villages on Friday, after multiple incidents were reported overnight. 
A vehicle was found torched in the Arab village of Kafr Bitilu near Ramallah, and a nearby home was tagged with graffiti stating it was "revenge for Henkin," in reference to the Israeli couple murdered in front of their children by Palestinian terrorists last night. 
An Israeli protest march entered the village of Beit Anun near Hevron overnight Thursday/Friday as well, leading to clashes between them and local Palestinian Arabs. Israel Police were forced to intervene at the scene and used riot control measures to calm the situation; one Israeli was arrested. 
Palestinian Arab media sources report other possible incidents between "settlers" and Arab locals, including one report that Israelis allegedly threw tear gas on Arabs near the village of Burin.
Israeli media have connected the outrage over the murders of Rabbi Eitam Henkin and Naama Henkin of the community of Neria, who were murdered in front of the eyes of four of their children Thursday night as Arab terrorists shot them in their car.
Palestinian Authority (PA) ruling party Fatah claimed responsibility for the attack early Friday.