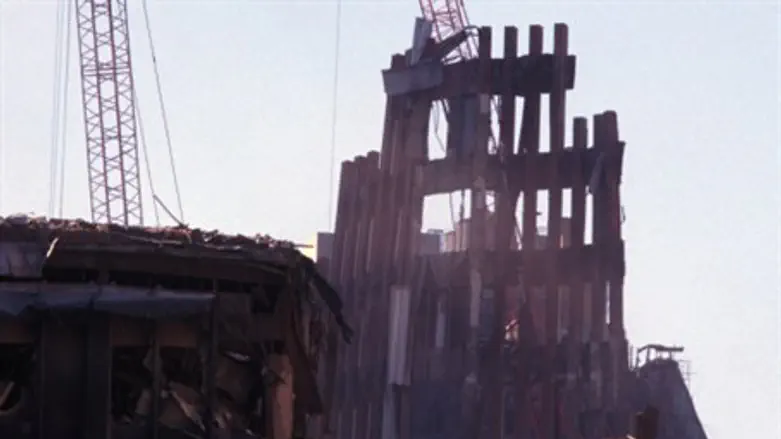 Ruins of the Twin Towers of the World Trade Center
Flash 90
A judge in the United States on Tuesday dismissed claims against Saudi Arabia by families of victims of the September 11, 2001 attacks, who accused the country of providing material support to the Al-Qaeda terrorist organization, the Reuters news agency reports.
In his ruling, District Judge George Daniels in Manhattan said Saudi Arabia had sovereign immunity from damage claims by families of the nearly 3,000 people killed in the attacks, and from insurers that covered losses suffered by building owners and businesses.
"The allegations in the complaint alone do not provide this court with a basis to assert jurisdiction over defendants," Daniels wrote, according to Reuters.
The victims had sought to supplement their case with new allegations to avoid that result, including based on testimony they secured from Zacarias Moussaoui, a former Al-Qaeda operative imprisoned for his role in the attacks.
Daniels said that even if he allowed the plaintiffs to assert those new claims, doing so would be "futile, however, because the additional allegations do not strip defendants of sovereign immunity."
Lawyers for the plaintiffs said they would appeal, according to Reuters. Sean Carter, one the lawyers, said he believed the ruling was also the consequence of the U.S. government's decision to keep classified evidence that could be favorable to their cause.
"Obviously, we respectfully disagree with Judge Daniels' ruling," he said.
A lawyer for Saudi Arabia declined comment.
The ruling came just over 14 years after the 2001 attacks, in which airliners hijacked by Al-Qaeda terrorists brought death and destruction upon the United States.
Most of the 19 attackers were Saudi nationals who hijacked planes and flew them into the World Trade Center in New York City, the Pentagon near Washington, D.C., and into a field in Pennsylvania after passengers revolted.
Three years ago, a federal magistrate judge ruled that Al-Qaeda, the Taliban, Iran and Hezbollah should pay more than $6 billion in damages to the families of victims killed on September 11.
In May of 2011, American Navy SEALs raided the compound of Al-Qaeda leader Osama bin Laden in Pakistan, killing him.