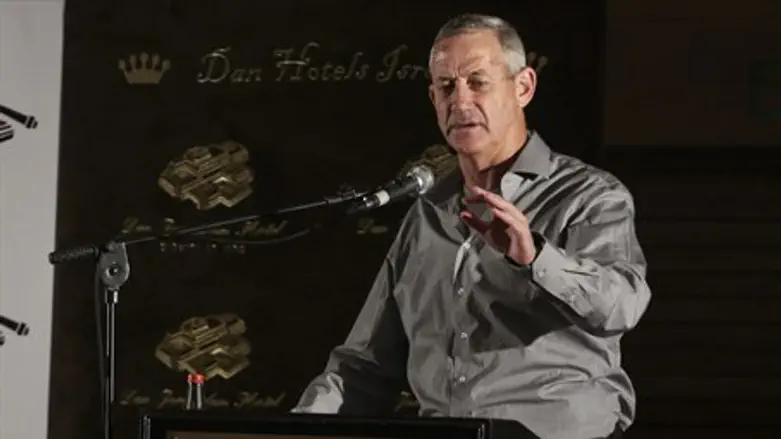 Benny Gantz (archive)
Hadas Parush/Flash 90
Former IDF Chief of Staff Benny Gantz said on Friday that the nuclear deal between Iran and world powers "could have been better", but urged for a look at the positive aspects of a deal.
Speaking at a conference in Washington in memory of former Haaretz journalist Ze'ev Schiff, Gantz noted he believed that the most important challenge facing Israel is a social one, adding that the gaps and divisions in society are increasing.
"It was possible to achieve a better deal with Iran, but the positive side is that Iran's nuclear program will be postponed for a period of ten to fifteen years, and that's a good thing," the former Chief of Staff said, according to Haaretz.
Gantz referred to Israel's security situation and said that the Jewish state must preserve its qualitative military advantage. As long as the nuclear deal goes ahead, he said, the intelligence efforts will increase as existing sites are monitored.
He added that "it is necessary to reach the Iranian public itself," and, hinting about Israel's capabilities, said there is no need to worry, because "Israel is strong and confident, and knows how to defend itself."
Gantz also said that Iran is not only an Israeli problem, but first and foremost a global problem, then a regional problem, and "only at the end it is an Israeli problem."
He also commented on the Russian presence in Syria, arguing that it is difficult to determine the strategic objectives of Russia at this time. Moscow itself might not be "one hundred percent" certain of these objectives, Gantz was quoted as having said.
With respect to the Islamic State (ISIS) jihadist organization, the former Chief of Staff warned that "the world must not allow this phenomenon to continue."
Gantz said he believed there are three ways to deal with ISIS: contain it, fight it, or reshape the political situation in the region. "While military success is possible, only an idea can defeat another idea," he said.
(Arutz Sheva's North American desk is keeping you updated until the start of Shabbat in New York. The time posted automatically on all Arutz Sheva articles, however, is Israeli time.)