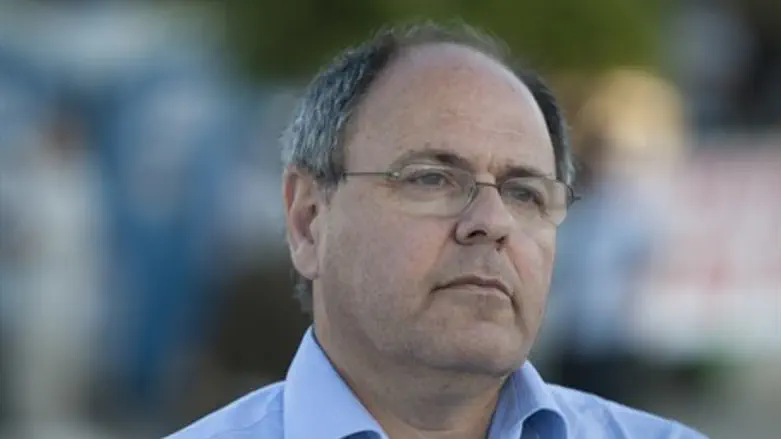 Dani Dayan
Flash 90
Zvi Mazel, former Israeli ambassador to Egypt, Romania and Sweden, slammed the attempts by leftist former ambassadors to derail the appointment of former Yesha Council head Dani Dayan as ambassador to Brazil over his residence in Samaria.
Mazel, who is a fellow at the Jerusalem Center for Public Affairs, spoke to Arutz Sheva about the affair on Thursday - the same day that MK Yousef Jabareen of the Arab Joint List wrote to Brazilian President Dilma Rousseff asking her to cancel the appointment.
In his letter, Jabareen said that Dayan "was the head of the Yesha council, a body that represents the Jewish settlements on occupied territories, from 2007 to 2013."
The Arab MK urged Rousseff not to approve the appointment, claiming it gives a message of support for the "Israeli oppression of the Palestinian people" and goes against international law - even though the Jewish presence in the Biblical heartland of Judea and Samaria is legal according to international law.
Responding to the initial call to block Dayan's appointment that came before Jabareen's letter, Mazel told Arutz Sheva on Thursday that the three leftist former ambassadors Ilan Baruch, Élie Barnavi and Alon Liel crossed a line in their actions.
"It is Dayan's right to think how he wants, he is an Israeli citizen and it is his right to live where he wants," Mazel said. "The actions of the three former ambassadors are very serious."
"To ask a foreign country to harm the state of Israel and to prevent an appointment - this may be treason," emphasized the former ambassador.
Mazel slammed the way in which the ex-diplomats went to a foreign government to thwart their own country, which is fighting for its international standing.
"They know the international relations of Israel, they know that there is a propaganda war here and they dare at this time to turn to the enemy. In my opinion the Attorney General Yehuda Weinstein needs to investigate them and check this," he said.
However, in the estimation of the former ambassador, Dayan's appointment will be approved in the end.
"It's pretty rare for countries to reject the appointment of an ambassador. I remember one time when Turkey opposed the appointment of an ambassador of ours who was an important researcher on Turkey due to his statements on the genocide of the Armenian people, and the state of Israel in the end did remove his candidacy."
"But here in the case of Dayan this is something totally different, this is political opposition to the opinions of someone who was head of the Yesha council and is a citizen of Israel, with the right to live where he wants," concluded Mazel.